COG Poetry Awards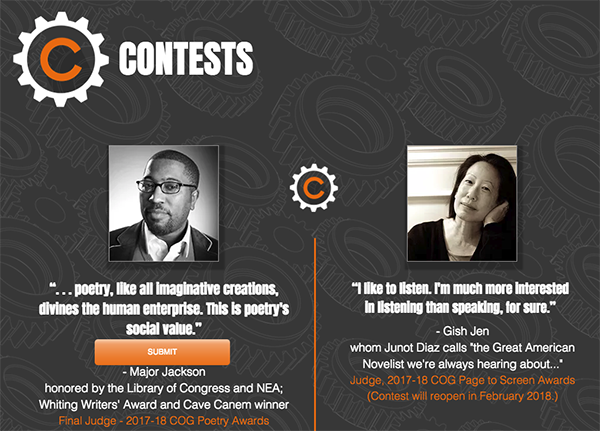 Deadline: January 31, 2018
Sponsored by Cogswell College. Submit a set of 1-6 poems. The winner will receive:
Publication online and in the print issue of COG, as well as a $1,000 prize
A blurb about your short story by luminary poet Major Jackson
Your story adapted as an animated short film, 2D animation, graphic book/ebook, or series of interpretive illustrations by students in Cogswell's celebrated Digital Art & Animation Program and Digital Audio Technology Program
Check out Cogzine and enter the contest at COG's Submittable site.
The adaptation of 2016-17's winning poem by Megan Merchant will be published online shortly. Meanwhile, please enjoy this animation made from "The Last Gun" by Anne Harding Woodworth, 2015-2016 COG Poetry Awards winner: