CUTTHROAT's Joy Harjo Poetry Award & Rick DeMarinis Short Story Award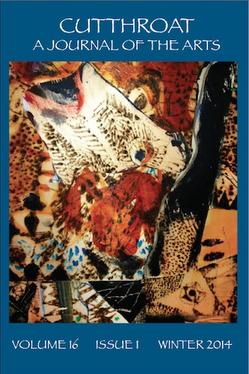 Deadline: October 20, 2014
First Prize in each genre: $1,250 and publication. Second Prize in each genre: $250 and publication. Honorable Mention: Publication.

Martín Espada will judge this year's Joy Harjo Poetry Award. Bobbie Ann Mason will judge the Rick DeMarinis Short Fiction Award. All prizewinning pieces will appear in CUTTHROAT 18, a special tribute issue for the writers Joy Harjo and Linda Hogan.

Submit up to three unpublished poems (100-line limit each) or one unpublished short story (5,000-word limit), any subject, any style. See the complete guidelines.

We congratulate last year's winners: Jamie Carr of Portland, Oregon for her story, "Chicken", and Jude Nutter of St. Paul, Minnesota for her poem, "Venus Showing Mars Her Doves Making A Nest In His Helmet". Please enjoy Ms. Nutter's poem:
Venus Showing Mars Her Doves Making A Nest In His Helmet
by Jude Nutter

after a painting of the same name by Joseph-Marie Vien in Saint Petersburg, Russia


A rosary of crows in the white air. Along the Neva
a breeze bending at the waist like a woman.
And a pigeon, somewhere, muttering, smooth

and fluent, almost beyond hearing.
So, what would you like to do, you ask,
for the rest of the day? Alarming, the hard beauty

of your body; the daily injuries of which you know nothing
simply fixing themselves. I don't care, I say.
You are reading, in the guidebook,

how the galleries we'd just strolled through
had been emptied in '41; The Bronze Horseman
in Senate Square sandbagged and camouflaged;

how those left behind, trapped in a city under siege,
had eaten their dead, and heavy loaves of sawdust
and linseed. And all I really want to do

is stay right here, at this table on the terrace
of the Pushka, pouring tea and passing, without being asked,
white rolls and curls of sweet unsalted butter

with the birds around us going public
with their private desires, and a breeze running its feints
and pale havoc along the skin of the river, and our terrors

dozing in the grass of the body's fields, which are unfenced;
with your hands unsheathed of harm. History, I say,
writes nothing but elegies, even though

I want to believe that a man can be disarmed
by pleasure; that the aftermath of his desire
can make him generous, and grateful; that life

can trick him into working toward its own purpose;
even though, that morning, we had entered the quiet chain
of galleries and encountered, in Room 52,

between the paintings of Le Brun and David, Venus
and Mars, virtually naked, standing in an amphitheatre
of pillars and thick foliage where pre-storm light

lay its unguent down on the dark tongues
of the trees. And Mars, of course, was muscled
and tanned. Of course he was beautiful.

And terrible. His armour tossed down in the dust
so we couldn't fail to notice the fleshy spill
of his skirt leather or those swirled, raised nipples

in the bronze of his cuirass or the red, slow pour
of his plume across the dirt. And Venus, with the pale
yoke of an arm placed around his shoulder, offers

the blush challenge of her doves on their little froth
of twigs and sticks. She must have known
from the start that he'd shrug off the shackle

of her arm and reach for his armour; must have been ready
for the fluster and the tocsin of her doves' small claws
against the metal of his helmet when they lift off

in a cough of feathers. And you are reading
about the mortal duty of the artist to protect
that which is immortal but, really, there is so

little time for god in a lifetime of searching, and I think
I hear the words beauty and eternal but am distracted
by your profile and the fragile rafter of your neck, exposed

between your shirt collar and hairline as you bend
over the glossy pages of the guidebook, its spine flaring wide
with a series of delicate snaps.