Delizon Annual Short Story Competition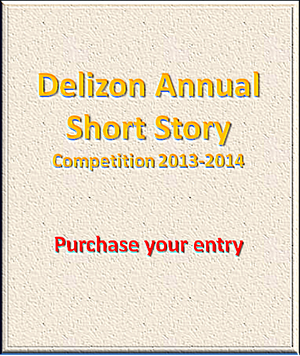 Entries must be received by March 30, 2014. Online submissions welcome.
Enter the 2014 Annual Short Story Competition sponsored by Delizon Publishers. Awards include:
A first-place prize of $1,200
A first runner-up prize of $600
A second runner-up prize of $120
The prize for the fourth through tenth places: $60
The 11th to 25th places will receive a gift certificate.
We are looking for a story that is bold, brilliant, yet brief. Send in your best work of 1,500 words or less. Click for the complete guidelines.
Below are the winning entries for our 2013 contest:
"Proper Preparation" by HS Derkin, First Place
"Blind Love" by Diane de Pisa, Second Place
"The Trip" by Ray Beard, Third Place
"Suicide or Not" by Jim Swenson
"Why Gretel Finally Gave Up on Rescuing Hansel" by Lucy Bacon
"Gilberto or a Parallel Universe" by Grace Babakhanian
"Stalagmites" by Cheryl L. Reed
"Coffee Caste" by Deborah Price
"Indescribable" by Lori Martinez
"Fear" by Carolyn Kirschner
"On Paper" by Maude Larke, "Don't Feed the Bums" by Jennifer Shephard, "The Long December" by Fallon Keplinger, and a few others also merited a gift certificate. Learn more about our top winners on our website.
We aim to provide feedback to every entry, even though it may not always be possible given the increasing numbers of participants.
Visit www.delizonpublishers.com to read more about Delizon Publishers and what we publish.