New Millennium Writings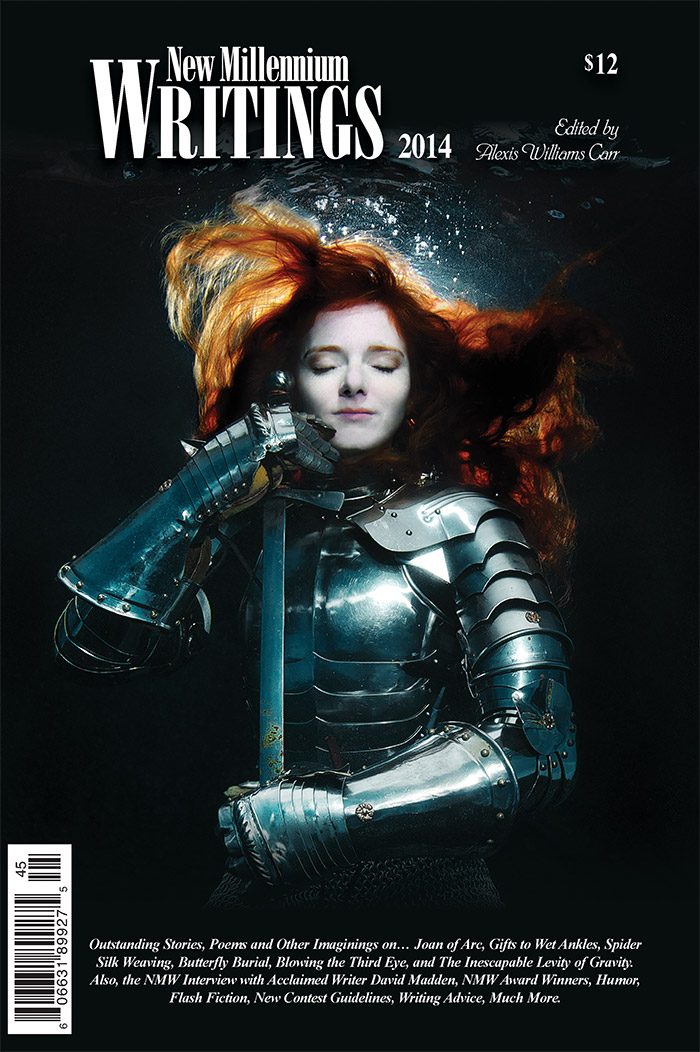 Release the writer inside... New Millennium Writings has launched careers!
Final Deadline for Our 39th Awards: January 31, 2015
$4,000 in Prizes, plus publication in NMW and on the web at www.NewMillenniumWritings.org
$1,000 for Best Fiction
$1,000 for Best Short-Short Fiction (1,000-word limit)
$1,000 for Best Poem
$1,000 for Best Nonfiction
We are pleased to announce the winners of the New Millennium Awards for Nonfiction, Fiction, and Short-Short Fiction in our 38th competition. Michael Caligaris, of Oakland, CA, has won the New Millennium Nonfiction Award for "An Unabridged Study of a Woman: A Love Story," his recounting of growing up as the son of an OB/GYN, and how his father's work shaped his own experiences with women and the world at large. George Choundas of Pleasantville, NY has won the New Millennium Fiction Award for "Troth," his imagining of an alternate world where three little differences change everything for the better...or do they? Founding Editor Don Williams declared this story to be "among the best work New Millennium Writings has ever published". Marcia Peck of Minnetonka, MN has won the New Millennium Short-Short Fiction Award for "Sounding Memento Mori," her story of a romantic chance encounter, one long remembered and treasured, though it barely made ripples in the surface of the character's life. Each winner will receive $1,000, a certificate to document the success, and publication both online and in the 2016 issue, which all contestants will receive next spring.
Learn more and enter our competition on our website, and let us know how you like our new site design. Catch up with us on Facebook, Twitter, or email us at alexis@newmillenniumwritings.com.
Please enjoy "Sounding Momento Mori":
Sounding Memento Mori
by Marcia Peck



Did I ever tell you about the boy I once met on a train, somewhere in Switzerland?

I was sixteen, all instinct, little analysis. But you would have liked him. He was older—all of eighteen or twenty. And nice. No match for you, of course. But well-mannered, good-looking in a way that suggested fortune smiled on him. His English was proper. It wasn't a long journey. Basel to Zurich, I think. He mentioned that he wanted to study in the States. He had ambitions. We exchanged a handshake and addresses.

Back home, I told my father about him, as I had promised. My father was a teacher. He believed in education. He welcomed the chance to host a fine young man. All was arranged.

But weeks before he was due to arrive, his parents sent the memorial card with his photo and a note. Swiss roads are mountainous and icy.

That was fifty years ago.


***


What made me think of him today? Did he whisper in my ear after all this time? "Remember me..."

Who says the dead don't long to be with us?

I've spent the intervening years on other trains and other continents, talking to other people I've long forgotten. My years are salted with good fortune and mistakes, some greatly regretted. I've planted daffodils, performed hundreds of Beethoven 5ths, met you, nursed our infant daughter. You taught me to drive a stick, to like bourbon, to tell the difference between a common button mushroom and a deadly Amanita. I've collected rocks, been stung by bees.

I've watched the years settle on your face. Life has let me do all that.

But not him.

His name was Willy Pavanne.


***


One day one of us will lose the other. Perhaps loss will burn itself into us slowly over time. Or come as quickly as the sudden sound of an accident.

But if I die first, listen for a whisper at your ear. Trust your instinct. It will be me, urging you to remember me. Longing to be with you.