Terrain.org's 12th Annual Contest in Poetry, Nonfiction, and Fiction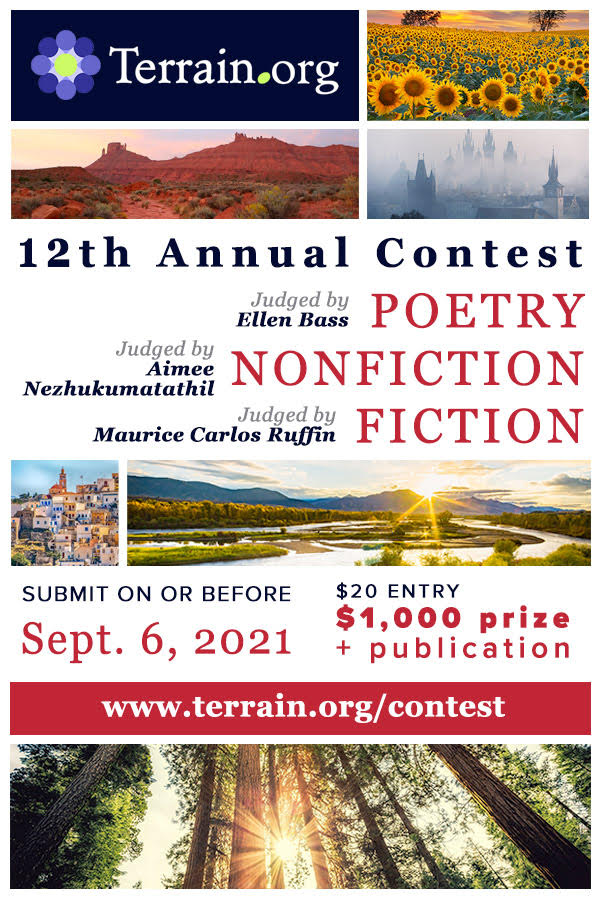 More than $3,500 in prizes, with a $1,000 grand prize in each genre and $100 to the finalists for Terrain.org's 12th Annual Contest in Poetry, Nonfiction, and Fiction.
DEADLINE AND GUIDELINES
We accept contest submissions (via Submittable) through Labor Day, September 6, 2021, for publication in February 2022. $20 entry fee per set of 3-5 poems (or a single long poem), story, essay or article. All submissions are considered for publication. Terrain.org's editors will read all entries, passing the top entries in each genre to the judges, who will choose the first-place winners. Decisions of the judges are final. Judges and editors do not know the identity of the contestants.
JUDGES
Poetry: Ellen Bass
Ellen Bass is the award-winning author of Indigo, Like a Beggar, The Human Line, Mules of Love, and others. A Chancellor of the Academy of American Poets, she founded poetry workshops at Salinas Valley State Prison and the Santa Cruz, California jails, and teaches in the MFA writing program at Pacific University.
Nonfiction: Aimee Nezhukumatathil
Aimee Nezhukumatathil's newest book is a collection of illustrated nature essays, World of Wonders: In Praise of Fireflies, Whale Sharks, and Other Astonishments. She is also the author of four books of poetry, most recently, Oceanic. She is a professor of English and creative writing in the University of Mississippi's MFA program.
Fiction: Maurice Carlos Ruffin
Maurice Carlos Ruffin is the author of The Ones Who Don't Say They Love You and We Cast a Shadow, which was a finalist for the PEN/Faulkner Award, the Dayton Literary Peace Prize, and the PEN America Open Book Prize.
For additional information, please visit our website.