The Frugal Book Promoter by Carolyn Howard-Johnson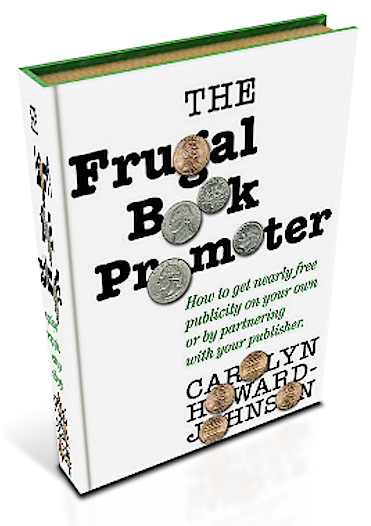 Give your book the best possible start in life with The Frugal Book Promoter, available as an ebook for $5.99. It's full of nitty-gritty how-tos for getting nearly free publicity. Carolyn Howard-Johnson, former publicist, journalist, and instructor for UCLA's Writers' Program for nearly a decade, shares her professional experience and practical tips gleaned from the successes of her own book campaigns. She tells authors how to do what their publishers can't or won't and why authors can often do their own promotion better than a PR professional. The first edition was a multi-award winner. The second edition, updated and expanded by more than 100 pages, is a USA Book News winner.
The Frugal Book Promoter now includes simple ways to promote books using newer technology—always emphasizing promotion and marketing techniques that are easy on the pocketbook and frugal of time. It also includes a multitude of ways for authors and publishers to promote the so-called hard-to-promote genres. The award-winning author of poetry and fiction draws on a lifetime of experience in journalism, public relations, retailing, marketing, and the marketing of her own books to give authors the basics they need for do-it-yourself promotion and fun. These effective approaches haven't been stirred and warmed over—they are techniques that will help rocket their books to bestseller lists. You'll also learn to write media releases, query letters, and a knock 'em dead media kit—all tools that help an author find a publisher and sell their book once it's in print.
We all know that book promotion (and life!) has changed since The Frugal Book Promoter was first published in 2004—particularly in ways that have to do with the Web, but in other ways, too. As an example, the publishing world in general is more open to indie publishing now than it was then. So, the second edition includes lots of information on ways to promote that were not around or were in their infancy a few short years ago. What's new:
What is Carolyn's simplified method for making social networks actually work—without spending too much time away from my writing?
How can I avoid falling into some of the scam-traps for authors?
How can I get into one of those big tradeshows like BEA?
What are the best "old-fashioned" ways to promote—the ones I shouldn't give up on entirely?
There is even an updated section on how you go about writing (and publishing) an award-worthy book. And, of course, you'll find it loaded with resources you can use—all updated.
How can I use the new QR codes to promote my book to mobile users? And to others?
What are the pitfalls of using the Web and how can I avoid them?
What are the backdoor methods of getting reviews—even long after my book has been published?
Learn more about The Frugal Book Promoter on Carolyn Howard-Johnson's website or buy it now at Amazon.