The Writer's Hotel "Mini MFA" Writers Conference 2016, June 1-7: NYC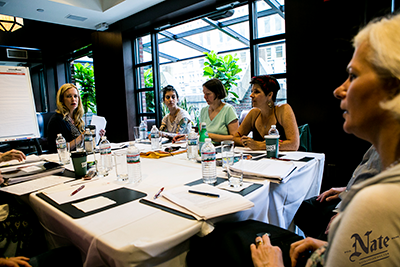 Application deadline: April 22, 2016
The Writer's Hotel is a hybrid writers conference that meets each June at a floating campus between three hotels in Midtown Manhattan. TWH is unique. We work with each writer on their writing for months before our Midtown conference. At our hotel campus in NYC in June, writers enjoy workshops, agent speed dating, editor and writer lectures, and genre labs. And each writer gets to read their own work in the city, at KGB Bar Lit, Cornelia Street Café or Book Culture. Please see AWP's article on our "new kind of writing program" and our trailer.
TWH 2016 Faculty includes Meghan Daum, Dolen Perkins-Valdez, Marie Howe, Tim Seibles and Bill Roorbach. Free to apply at www.writershotel.com.
"I am blown away by the time TWH Editors dedicated to read, comment, and discuss my manuscript pre-conference. The editorial approach is unlike any I have experienced, as I seek to shape my work into book form." — Jim G.
"Supportive yet very rigorous and specific commentary and guidance. Plenty of individual attention. Connections with agents and editors. I've continued on with TWH Editors on an individual basis. I can't afford to waste time and money, and they are the best buy I've found so far." — Tim C.