Tupelo Press July Open Reading Period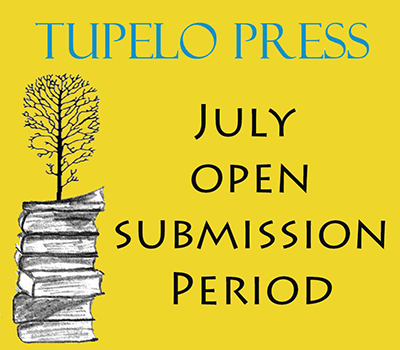 Postmark Between July 1 and July 31, 2016
Throughout the month of July, Tupelo Press is holding open submissions for book-length poetry collections (48-90 pages) and chapbook-length poetry collections (28-47 pages), and for the first time in July, manuscripts of any length of English translations from any language.
Submissions are accepted from anyone writing in the English language (whether in the United States or abroad). A reading fee of $28 (U.S.) must accompany each submission. Include a cover page with the title of your manuscript, your name, address, phone number and email address.
Our online submission manager, Submittable, will be accepting poetry manuscripts between July 1 and July 31, 2016. We also accept manuscripts via postal mail. Your manuscript must be postmarked between July 1 and July 31, 2016 and sent to:
Open Submissions
Tupelo Press
P.O. Box 1767
North Adams, MA 01247
If you are submitting a paper manuscript, include two cover pages: one with the title of the manuscript only, the other with title of manuscript, name, address, telephone number, and email address. Cover letters or biography notes are optional. Include a self-addressed stamped postcard to confirm receipt of your manuscript, and a self-addressed stamped envelope if you'd like notification of July Open Reading Period results. An email announcement will also be sent to all entrants.
Read the complete guidelines before submitting your manuscript:
https://www.tupelopress.org/july-open-submission/
Here is a poem from Tupelo author James Byrne, who first came to Tupelo Press through the July Open Reading Period. It is featured in Everything Broken Up Dances (Tupelo, 2015). For more information about Everything Broken Up Dances and our canon of 100+ books, please visit our website: https://www.tupelopress.org/.
The Humming Lady
by James Byrne

The humming lady arrives
in a smiling orange smock
and orders from the waiter
a plate of overripe oranges,
peeling off the snowwebs
into a red-blanketed napkin.
She hums a centuries-old
Romany tune, which I half-
recognise as the fugue to
my own death (and so it
must be her own death).
Through orange mist and
beneath a brown-greying
fringe, she appears to half-
recognise both of our lives
and turns (out of politeness?)
towards an invisible volta.
Clear pearl of eye where
I thank smilingly, pleased
at the new tempo, its cheer
turbinal about the room,
unsealed maternally from
the willow of her throat.