upstreet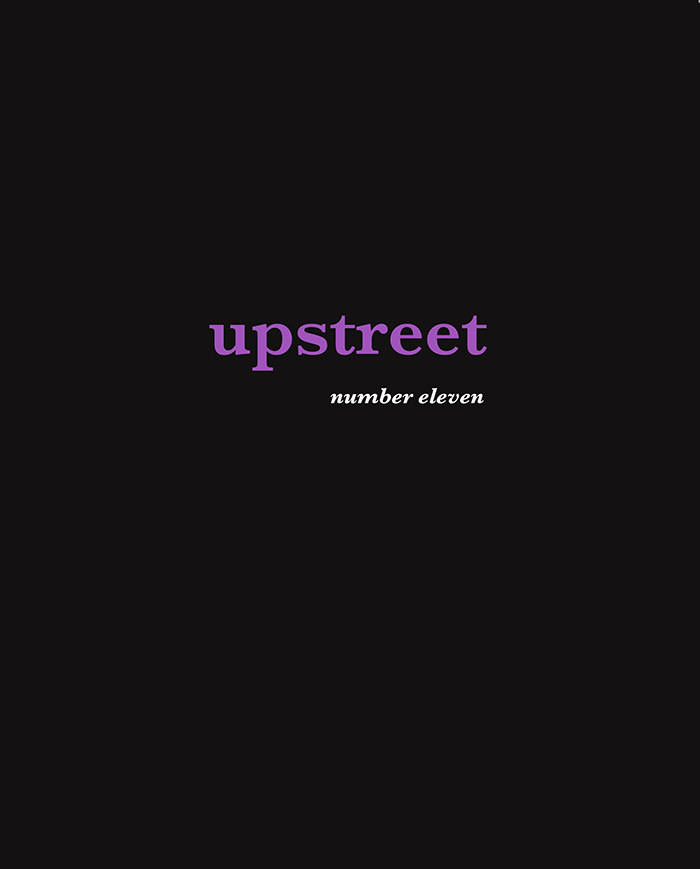 Submission period: September 1, 2015-March 1, 2016
No fee
Award-winning literary annual upstreet seeks quality submissions of short fiction, creative nonfiction, and poetry for its twelfth issue. Past issues include interviews with Jim Shepard, Lydia Davis, Wally Lamb, Michael Martone, Robin Hemley, Sue William Silverman, Dani Shapiro, Douglas Glover, Emily Fragos, Robert Olen Butler, and Joan Wickersham.
This issue will feature an interview with poet Tony Hoagland, winner of the Poetry Foundation's Mark Twain Award and many other honors and prizes. Distributors: Ingram, Media Solutions, Disticor (Canada). Chains: Barnes & Noble, Hastings, Books-A-Million.
For new guidelines, including payment, and to submit, see www.upstreet-mag.org.
From upstreet number eleven:

Done With Counting Phases
by Maya Janson

Because of fog, the moon shows up in a tutu.
Because I'm late I've missed the ferry.
Done with too much time in a shell-paved lot
to enumerate losses. Unsightly proliferation
of dock-side bars and happy hours,
cocktails of ice and crystallized plum.
Signage and spoilage, the oily water
of the bay in which we speculate whales,
imagine fin and blow-hole and barnacle.
Done with half-blown theories and rants flung
at the neap tide. In accordance with what and not.
Not a day goes by without my missing you,
your practical shoes, your overflowing clutch.
As always, the moon is righteous while we sleep.
Done for, making calculations in my head.
Apogee, perigee. Umbra, penumbra. Loopy
with things overheard at the refund desk.
The tide is high, the tide's dead low.
Done with prophylaxis the couple approach the altar.
The seamstress done with mending lays down
her silver thimble. Leaving their big, unruly nests
the herons take to the sky like shirts flapping
on a clothesline when the old rope comes undone.