Women Reading Aloud Hosts Writing Retreat in Greece

WOMEN READING ALOUD is a non-profit organization dedicated to the support of women writers. Since 2003, it has offered workshops, retreats, conferences and special literary events. WRA returns in June for the 4th year to the magical island of Alonnisos—one of Europe's top eco-friendly islands. Engage in a life-affirming experience open to all genres. Balance solitude with community. Renew your writing life. Learn more at Women Reading Aloud.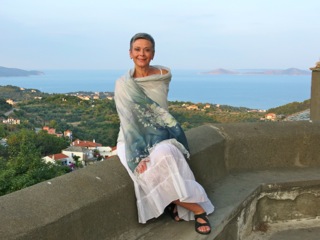 WRA Director Julie Maloney returns to lead another
writing retreat on the island of Alonnisos
ALONNISOS is a jewel of an island situated in the northwest of the Aegean Sea. It belongs to the Northern Sporadic group of islands. The harbor spills into a small bay with clear turquoise waters, surrounded by steep, ochre-yellow cliffs. Alonnisos has been designated as one of the top eco-islands of Europe. Swim in its crystal clear waters or hike old donkey paths kept open for nature lovers. Explore the natural beaches and travel into the hilly countryside where gentle, green hills converge with deep ravines. View the island as one large botanical garden. Surround yourself with dramatic views from the top of Chora—Old Town—and other high points on the island. Return to your private terrace and breathe in the calm of the environment.
You will arrive by Flying Dolphin hydrofoil or ferry to the lively port and main village of Patitiri. Most of the islands' 2,900 permanent inhabitants live in this area. Patitiri is full of cafes and tavernas where you can sit with your writing journal and enjoy the port atmosphere with the many colorful fishing and sailing boats. Walk up the hill to Nina's Pansion where you will be staying and feast your eyes on the magenta bougainvillea. Read. Take a nap. Swim. Hike. Take time. Write.