All the Wild and Holy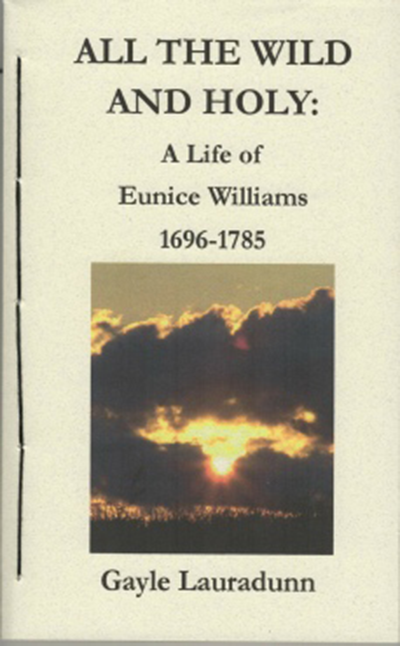 Critique by Jendi Reiter
When the Winning Writers family moved to Northampton twenty years ago, we were intrigued by a plaque in a local history exhibit from the early 18th century: "She married a Savage and became one." Take a tour of Historic Deerfield, some 16 miles north of our HQ, and you'll hear the story of Eunice Kanenstenhawi Williams, a Puritan minister's child who was kidnapped in a raid by French-Canadian and Mohawk warriors in 1704. Eunice became notorious for refusing to return to her family when they tried to redeem her. The French gave her to the Caughnawaga tribe, southwest of Montreal. When she was 16 she married a Mohawk from another tribe. In 1741, she went with her husband and two grown daughters to visit her brother Stephen in Longmeadow, Massachusetts. She visited again two years later. But those two visits were never repeated.
All the Wild and Holy: A Life of Eunice Williams, 1696-1785 is Gayle Lauradunn's lyrical and sensitive re-imagining of this politically fraught episode. This book-length poem in Eunice's voice suggests why she might have felt more kinship with the Native people than with the dour, patriarchal culture of her origins. At first naturally frightened and confused by the change in her circumstances, young Eunice finds that it also gives her space to articulate certain rebellious feelings, out of range of her father's "harsh voice" and the surveillance of the Puritan God who would punish her for not doing her lessons during a massacre. "Fear already gripped us all./What does it mean to/add fear to fear?"
Through Eunice's voice, Lauradunn contrasts the stifling austerity of the Puritan aesthetic to the Indigenous people's brightly colored garments and their immersion in the natural world. When an Abenaki woman caring for the kidnapped girl brings her garments with intricate beaded fringes, Eunice is torn between not insulting her caregiver and obeying the church's ban on heathen luxuries. "But Father has not/returned. I am here alone/and must decide for myself." Like a new Eve in Eden, the girl is breaking the ultimate taboo by making her own assessment of good and evil—and her life is all the better for it.
Recurrences of the color red symbolize what the Puritans would have called her loss of innocence, and what the modern reader would call her emergence into the full spectrum of maturity. It's like the moment when Dorothy enters Oz and the black-and-white film becomes Technicolor.
My co-judge Ellen LaFleche said of this book: "The writing here is beautiful and well crafted. The story so compelling I couldn't stop turning the page. The author did an enormous amount of historical research in trying to figure out why Eunice wanted to stay in Canada. I appreciate the well-researched portrayal of Puritans, French-Canadian Catholics, and Native Americans and how their cultures clashed and merged. Unique, imagistic, and culturally and historically relevant!"
Ellen questioned whether the child narrator would have used sophisticated words like "metallic" or "stragglers," or known the names and population sizes of the groups conducting the 1704 raid.
This book made me reflect on how American literature uses Indigenous people as a foil for the flaws of white civilization. From The Last of the Mohicans to the film "Dances with Wolves" and beyond, we return to the trope of idealized Native Americans whose simple lifestyles and lack of repression contrast favorably with urban decadence and Christian patriarchy. There's a lot of truth in this, but it can also be a fiction that continues to center the white gaze, disallowing Native Americans the same complexity as their colonizers.
All the Wild and Holy sometimes drifts into this oversimplified territory as Eunice begins to compare her past and present environments. But the opening scenes are unsparing in showing the Natives' violence against the Deerfield colonists, too. "My mother/ripped from childbed/out of the blazing house." White historians dubbed this event the "Deerfield Massacre", but from the Indigenous perspective, it was a justified resistance to invasion. Complicating the issue is that some of the raiding party were French dressed as Natives, as this event took place during the so-called French and Indian War when France was attempting to take over the English colonies.
This important book sets these realities side by side, leaving its readers, like Eunice, to reevaluate the beliefs we once held without thinking.
Read an excerpt from All the Wild and Holy (PDF)
To order a copy of this book, please email an inquiry to the author.