Elegy for Childhood Written in a Language I Did Not Yet Speak, Addressed to the God I Once Knew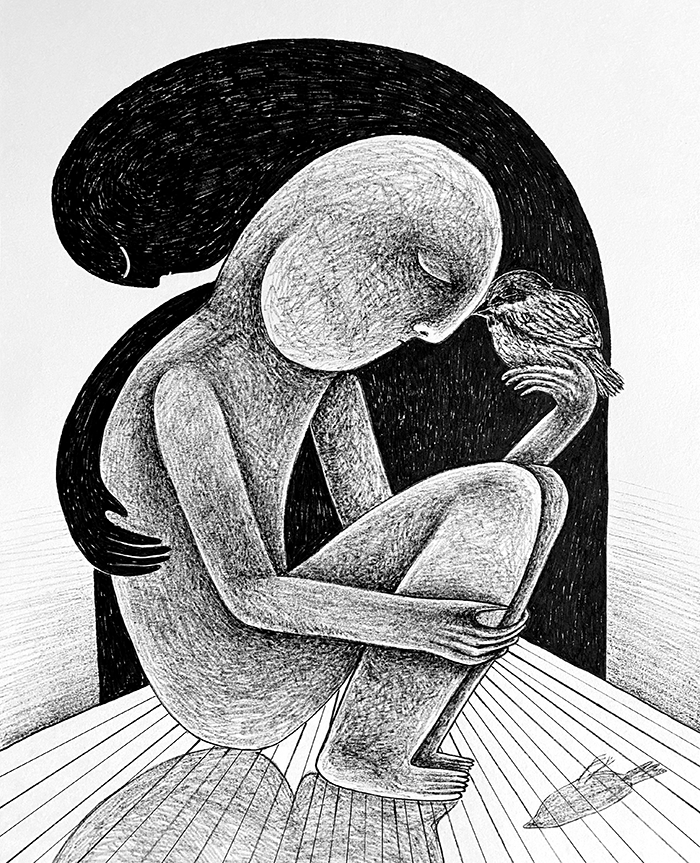 Illustration by Melissa Chalhoub
I tremble with solitude much greater than my own —Robert Șerban
wehn the frsit saporrw flel from the haeenvs / did it fly psat you /
or did it flal trhugoh you? / did you frcoe it to fele? / to mkae a new hmoe
out of yuor asbecne? / wehn you mdae the saporrw / did you make it /
in your image / or mine? / did you snig out in hpapnises / or sroorw?
wehn you mdae its wnigs preecft for fghilt / wree you saepnkig to me?
or sahinpg its bdoy to taceh me loss? / i konw mrcey / i konw mrcey can be
taht cuerl / i hvae seen yuor cuertly / in the wnigs of a saporrw / tlel me /
if i wecrk the saporrw's nset / if i cut dwon its tere / if i trohw its bdoy /
bcak to you / wlil you konw i am saepnkig aubot melysf? / wlil you lstein
to the sunoldsesenss of my asbecne? / are you wliinlg to bruy yuosrlef
whit me? / i ask olny for dmonioin / oevr my own asbecne / tell me
if not the lnaugage of slincee / waht do you udnretsnad? / if not
the peorty of asbecne / waht do you feel?