Endemic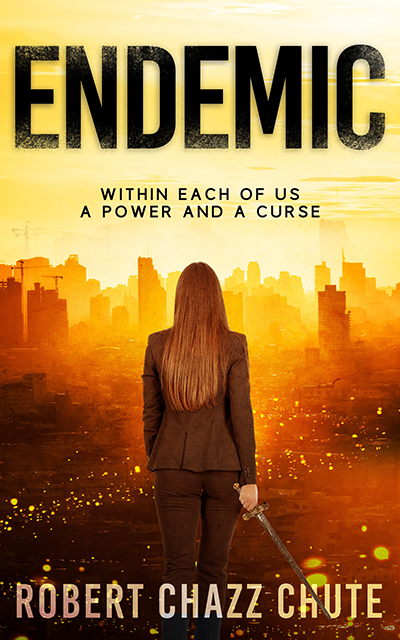 Critique by Jendi Reiter
When you're talking dystopia, there are two kinds of people in the world: preppers or head-in-the-sand types (like me) who say (only half in jest) that we'd rather die than try to survive without flush toilets. So how do you get me to read—and love—a post-apocalyptic novel? Make your protagonist a queer neurodivergent book editor with emotionally abusive parents. Relatable, much?
To be sure, that's only one of many fine qualities in Robert Chazz Chute's Endemic. The premise: Manhattan is a post-technological, vigilante-ridden wasteland after a neurological plague has swept America. Survivors of this virus have progressively worsening cognitive and linguistic impairments that turn them into a stigmatized and brutalized underclass. Called "Thirders" because it was the third pandemic to hit the US in rapid succession, the victims have developed an enhanced emotional intelligence along with their disability.
Our unlikely heroine, Ovid Fairweather, seems like the opposite of a Thirder. What she wants before the pandemic and after it are pretty much the same: to read books and be left alone. She's got a nice secret hydroponic farm in an abandoned office building, and a few regular trading partners for bartering essential goods. Belittled by her parents and rejected by co-workers for being out of step with social cues, Ovid doesn't trust anyone. In the Hobbesian world of post-pandemic New York, it seems like this strategy's time has come. What's beautiful about this story is how she discovers she's wrong.
Endemic is an adventure novel with plenty of innovative survival strategies and high-stakes battles to keep those pages turning. But even more than that, it's about a misunderstood woman's journey out of isolation and cynicism. Ovid trusts the wrong people, pushes away the right ones, recognizes her mistakes and tries to regroup before everyone dies. A key character's betrayal made me gasp with shock, but the twist was supported by believable motivations and even some clues you could see in retrospect.
The writing is vivid and distinctive without being overwrought. First-round judge Annie Mydla said: "The prose has a fracturedly-poetic word-association component that reminds me of Motherless Brooklyn. There's also a multifaceted use of the word 'function' over the course of the book that subtly interrogates the word, which is important in the context of themes investigating allyship and disability."
Annie also suggested some areas of improvement: "I have to say that I would have preferred this book to have been written from the perspective of a Thirder. The narrator, despite being sympathetic, often still has ableist views that could have been interrogated far earlier in the book…However, the portrayal of the anti-Thirder gang 'The Memory Keepers' is anti-fascistic and pushes Ovid from being only sympathetic to being a true ally. By the end of the book, it's clear that the story was written with the intention of empowering the reader to imagine a future free of oppression and fascism, despite the current prevalence and power of both."
I personally would have been interested to see the Thirders' unique mix of skills and deficits play a larger role in the plot. I loved Ovid as a narrator, but wanted some Thirder character to show more agency so we could see how their social intelligence would be an asset, the complement to Ovid's analytical autistic brain. I'm reminded of Theodore Sturgeon's classic science fiction novel More Than Human, where a found-family of developmentally disabled characters meld their awareness to create a super-powered gestalt consciousness.
The physical book was a well-made hardcover with a satisfying heft and professional interior formatting. It was indistinguishable from a thriller published by a major commercial house. The fire-toned cityscape on the cover was perfectly in tune with the genre, though the young woman with the long flowing hair and tailored pants suit is not how I pictured the defiantly unfeminine and scruffy Ovid.
Let me take a moment to appreciate how well Chute writes from a woman's point of view, with no stereotypes or gratuitious sexualization. At one point Ovid has to fend off an aggressive suitor by explaining that she's asexual. Refreshingly, the book treats her orientation as normal, and the pushback she receives is unfortunately true-to-life.
Chute is a good marketer who lists his numerous other post-apocalyptic novels in the back of Endemic. Zombies, aliens, religious zealots…which nightmares do I want to have next?
Read an excerpt from Endemic (PDF)