My Pinsans and Me: Amara's Talent Show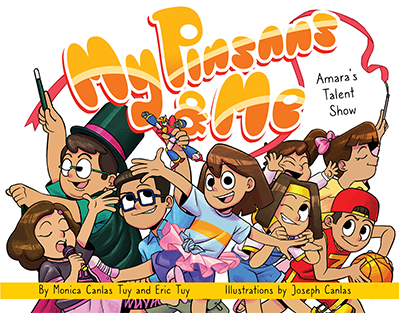 Critique by Jendi Reiter
Lively picture book My Pinsans and Me: Amara's Talent Show is a family affair, just like its storyline. Written by Monica Canlas Tuy and Eric Tuy with illustrations by Joseph Canlas, it's a tale about kids solving a conflict of wills in a creative and enjoyable way. Along with these skills, readers learn about Filipino food and traditions.
Pinsans means "cousins" in Tagalog, the other official language of the Philippines besides English. Protagonist Amara, who looks to be about eight years old, is really excited to welcome her half-dozen cousins to her suburban house, along with a crowd of aunts and uncles, for a potluck with her parents and grandparents. The bright, cartoonish illustrations show you how noisy and energetic this party will be!
However, disagreement breaks out when each cousin proposes an activity that showcases his or her own skills, making Amara sad because she doesn't know how to play basketball, build a robot, perform magic tricks, and so on. This felt like a genuine depiction of how kids in the 6-10 age group behave. We always appreciate a picture book that addresses an age-appropriate social dynamic, because this increases the chance that a child would seek out and re-read the book, forming an emotional connection to it.
As the title suggests, Amara gets the bright idea for the cousins to stage a talent show for the adults, allowing everyone a turn in the spotlight to showcase their special interests. It was good to see the young characters independently resolving their conflict. This is a fine line for juvenile literature to walk. We rejected some books that put the onus on children to solve a problem that actually represents adults' failure to create a safe environment, such as peer jealousy, bullying, or sensory overload. (Ask me why I hate The Rainbow Fish.) Here, the dilemma was on the right level for kids to handle themselves, and the loving relationship among the cousins ensured a good outcome.
The judges agreed that the glossary of Filipino kinship terms, expressions, and food definitions would have been more useful at the front of the book than the back. My co-judge Ellen LaFleche wanted more description of the tastes, smells, and ingredients of the traditional foods, since this wasn't always clear from the pictures and main text. The print was small with thin black lines that didn't show up well against some of the colored backgrounds.
As noted in other critiques, we didn't understand the omission of bios for the authors and illustrator. Bios provide an important opportunity to show your background in the culture or subject you're writing about, as well as promote your other projects. We wish good luck to this writing team in creating additional upbeat and educational tales about Amara and her cousins.
Read an excerpt from My Pinsans and Me (PDF, please allow a couple of minutes to download)
Buy this book on Amazon