Home Water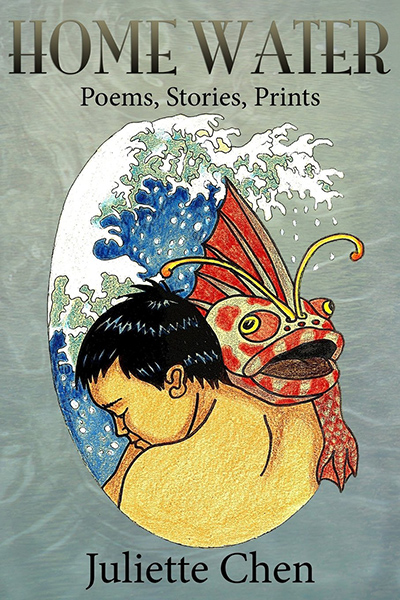 Critique by Ellen LaFleche
Juliette Chen's Home Water: Poems, Stories, Prints was my favorite book in this year's contest, the first year that included poetry as a category. I especially loved the artistic creativity of this book; it is a hybrid work that includes poems, lyric prose, and the writer's own lino and woodcut prints. The short prose pieces inform the poetry, the poetry informs the prose, and the woodcut portraits of workers and solitary people in Hong Kong inform the writing in a kind of gorgeous symbiosis that gave me the chills described by Emily Dickinson when she was asked to define poetry.
Chen's heritage is Vietnamese and Chinese, and her stories and poems about female ancestors are especially compelling. Her words are beautiful throughout the book; there is a painful irony in how these lyric, musical words often describe female oppression and abuse.
Consider the opening stanza of the poem "Face":
Old man, here she is—
led through clichéd labyrinths
where incense smokes the air,
where humped women pass
with an animal stare.
And later in the poem:
You start on her before
dessert is halfway through.
Your hand, a travelling salesman,
attests to the firmness
and rigidity of her back.
In her introduction to the book, Chen explores her heritage and documents her reactions to being a new immigrant to America, a topic that could not be more relevant today:
"In a sense, you can say I've been orphaned and displaced by colonization. My father came from Taiwan, which was a Japanese colony. My mother was from Vietnam, which was a French colony. And I grew up in the British colony of Hong Kong. How do you declare your loyalty to a place that someone else owns?"
This was one of many places in the book where I had to stop reading in order to reflect on a question or theme. How does a young woman navigate these levels of identity? I learned a lot about Chinese and Vietnamese history, and many of Chen's images remain in my memory months after first reading the book.
The book was free of errors and typos and aesthetically pleasing throughout with an inviting cover, readable print, and strong binding. My co-judge, Jendi, was concerned that the poetry was not quite as strong as the prose. I somewhat agree with that assessment, but wonder if this may be more a reflection of the unusually strong prose style than of the poems themselves. My main concern is the book's relatively small number of pages; at 60 pages, it lands somewhere between a chapbook and full-length poetry collection. There is a difference between wanting more pages to read, and needing more. I needed more, and look forward to her next publication.
I wish to congratulate Juliette Chen for this artistic endeavor. Her voice is strong, authentic, and all her own.