Look, Black Boy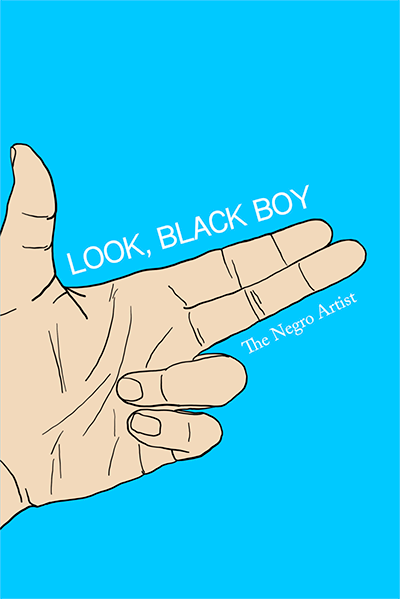 Critique by Jendi Reiter
Caleb "The Negro Artist" Rainey's concise and high-impact poetry collection Look, Black Boy has the rhythmic verve and immediacy of spoken-word poetry, yet loses nothing in its transition to print. Rather, Rainey takes advantage of the visual medium to experiment with line spacing, punctuation, and layout in ways that add dramatic tension to his accounts of Black struggle and joy.
In blunt, powerful words that reminded me of Danez Smith's second collection, Rainey dedicates his book to "everyone who showed me that I was meant to be more than dead." He comes out swinging with the opening poem, a self-examination of times he acquiesced in white people's perceptions of him as an N-word in order to survive. (Rainey writes out the word in question, but as a white reviewer, I will refrain.) An image toward the end of the poem encapsulates the normalization of his erasure:
Because zero equals Black.
In fact,
the cops taught me that
when the bullet hit
a brotha's back in front
of the blue house I used
to memorize my first address.
In "Shots Fired", a thick black border presses in on a small rectangle of text that summarizes another shooting from the cop's perspective, with strikeout font showing where the true facts were revised to make it look justified. The flip side of the page is simply a large black rectangle.
It's been observed many times that authority figures and the media can be biased to see Black children as older than their white counterparts. This can take the form of sexualizing Black girls or disciplining them more harshly in school, or cases such as Tamir Rice's, where police saw a kid with a toy gun as a deadly threat. Poems such as "Humanize Me" remind us that the titular Black boy is a child who:
loves red skittles & red kool-aid
basketball & batman and
doesn't want to die a hero
but knows livin' can make him a villain
Rainey celebrates the ordinary joys of Black family life, the hardworking elders who nurture the boy with food and teach him to play chess, the cousins who bond with him over music, and a determination to beat the odds. The poem that caught at my heart and lingered in my memory was "A Letter From Red Kool-Aid". The personified drink expresses a childlike bewilderment at the premature violent death—implied but not fully comprehended—of the boy who used to love this treat. This was a really original and affecting way to approach a sadly familiar subject.
My co-judge Ellen and I briefly debated whether the book was too brief, at 39 pages, to stack up against the other contenders. A couple of the poems in the second half were less effective, preaching the message outright more than showing it through anecdotes. However, we were won over by this collection's emotional authenticity and the tautness of its language.
The book design was professional, with an easily readable font and a bold modern header style that fit the mood. There were only a handful of typos, including some name misspellings. We liked the original cover art of a pointing hand on a bright blue background, but it seemed like it would have made more sense for the hand to be Black rather than Caucasian.
Look, Black Boy is a timely, relatable collection that would be a great addition to a high school poetry curriculum, as well as a good read for adults. We are happy to help it reach a wider audience.
Read an excerpt from Look, Black Boy (PDF)
Buy this book on Amazon