Lorelei's Lyric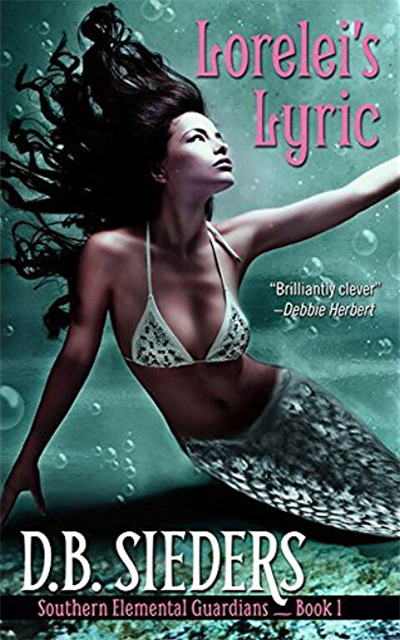 Critique by Jendi Reiter
Nixies in Dixie! Lorelei's Lyric is a bubbly fantasy-romance about frisky Rhinemaiden mermaids on vacation in Nashville, TN. So many of our top entries tackled serious topics this year, it was a great break to read a book that was playful and fun.
In this first novel in D.B. Sieders' "Southern Elemental Guardians" series, 400-year-old Germanic sirens Lorelei and her sister Ilsa (don't call her "Flosshilde" anymore!) determine to enjoy a last youthful jaunt before Lorelei succeeds to her mother's throne as ruler of the Rhine. Since there are many more female than male mermaids, a good part of Rhinemaidens' vacation plans involves hunting for mortal men for a quickie. The girls can take on human legs temporarily, though they need to stay close to water. However, falling in love with a mortal has dire consequences. To ensure that her daughters would not be betrayed by men as their ancestors had been, Lorelei's strong-willed mother put the nixie curse on them: their supernaturally beautiful voices kill the humans who hear their song.
Meanwhile, the charismatic and tormented rock musician Vance Idol is losing his battle with addiction and self-loathing after his ex-girlfriend's overdose. When their paths cross in Nashville, their instant sexual chemistry and Lorelei's protective instincts bond them together, but his ego may be an even bigger obstacle than her magical secrets. Of course, all ends well, with help from folksy river spirit Catfish Jack and flamboyant eagle-demigod Bruce.
I can rarely get through a heterosexual romance novel because the male lead's bad-boy foibles are often things that should be deal-breakers in real life: persistent pursuit after a woman's "No", jealous anger, or professional disrespect for women—of course making an exception for the female romantic lead, by the end of the book, once she has been sufficiently feisty yet tolerant of his learning curve. Writers need to learn the difference between obstacles that the couple can overcome together, and obstacles that are a danger sign for the coupling itself.
Thus, I was grateful to discover Lorelei's Lyric, a story about joyfully sex-positive women and an egotistical anti-hero who does his own work to sober up and make amends. Lorelei is sexually experienced and assertive, and the role reversal turns Vance on, instead of making him want to "tame" her. Older women (a relative concept for Rhinemaidens) also have complex, well-rounded roles in the story: Aunt Ondine is unapologetic in her pursuit of boytoys, and Lorelei's mother Melusine might act like a literal monster, but her suspicion of the human world is understandable. The characters' banter is entertaining and the Music City setting gives the book a party atmosphere.
Compared to the supernatural folk, the rockstar and his bandmates were a bit two-dimensional. The bad-boy romantic lead is something of a cliché, though Vance matured more than is typical for this genre. My biggest problem with the book was some heteronormative attitudes. Bruce's sissy-shaming of Vance ("scream like a girl") became tiresome very quickly. As we mentioned in this year's judging essay, when creating a fantasy world with an all- or majority-female community or species, skip those lazy throwaway lines about how they're all interested in sex with men. Are there no lesbian mermaids?
The book design from Griffyn Ink was serviceable but plain inside, with an easy-to-read serif typeface. The alluring mermaid on the cover, in tones of aqua and pink, conveyed the genre of dreamy fantasy, but did not suggest the Nashville setting that would add to the book's shelf appeal.
Advice to authors: a glossy cover makes your book look self-published, and more likely to curl up. Try heavy matte paper instead. Stock artwork options may be limited, but consider expanding your definition of female beauty beyond model-thin 20-year-old white women. It's easy to find low-cost indie illustrators on Twitter, like @KivaBay, who are drawing mermaids with a wonderful diversity of body shapes and skin tones.