Minnie and Dick's Gender Reveal—Take Two
Illustration by Wren Chavers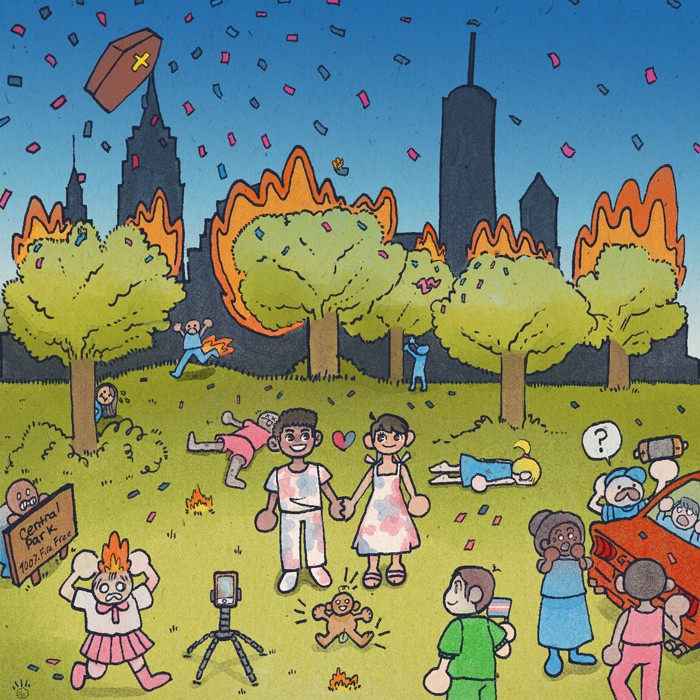 Please enjoy this recording of the author reading "Minnie and Dick's Gender Reveal—Take Two" (MP3)
It's gender reveal day for Minnie and Dick,
To see if their baby's a dude or a chick.
Truthfully speaking, it's their second go,
The first put Dick's father, John, six feet below.
John's home-made confetti contraption,
Exploded in quite a spectacular fashion.
Who knew pipe bombs were so easy to make?
All agreed it was an honest mistake.
But worst of all was how the orange-ish flare
Zapped the confetti straight into thin air.
And so, the not knowing went on and on,
'Til they could bear it no longer—RIP John.

The couple wore white, their clothes very plain,
A canvas for the colored powder to stain.
It was Minnie's idea, she's quite the artiste,
Her Instagram posts get twenty likes, at least.
But her most liked post is the one that contains
A photo of them covered in poor John's brains.
"Well, this isn't quite the pink we'd expected,"
Minnie joked to a reporter. Dick then reflected,
"We hadn't foreseen the explosion would spark
Flames big enough to engulf Central Park."
But good things had come from that terrible fire;
They went viral which paid for them both to retire.

One by one, their family and friends all arrived,
(Minus John and the others who hadn't survived.)
One of the games was to 'best guess the gender';
So guests wore their finest pink or blue splendor.
Except colorblind Matt who wore all lime green,
Which enraged Minnie, causing quite a scene.
"If I give birth to Shrek, you half-witted shit,
I'll take out your eyes and I'll feed them to it."
Dick calmed her down as it was time to find out
What Minnie's womb had decided to sprout.
A Ford Mustang was the star of the show,
What color smoke would its exhaust pipe blow?

Once John's pride and joy with its shiny red coat,
Dick stroked the car fondly and then cleared his throat,
"Today's for Dad as much as me and my wife,
A celebration of the circle of life.
In fact, he's more involved than you all might think,
His ashes have been dyed either blue or pink.
They're in the exhaust, so when the car starts
He'll coat us gently this time—no body parts!"
An 'awww' resounded from the captive crowd,
Dick's mom Jane cried, "He would be really proud!"
Dick held out the car keys, "Mom, please, turn it on,
You should be the one who blows out your John."

Eyes brimming with tears, Jane reached for the keys,
Under her breath, Minnie muttered, "Oh God, please!"
A boy or a girl, she claims she doesn't mind,
But the matching pink dresses were so hard to find.
On the contrary, Dick's heart is set on a boy,
A football star son would be his greatest joy.
He hopes to pass on his stature and strength,
And certain other features, including his length.
Minnie couldn't look, she peeked through her hands,
Dick started the live stream, direct to their fans.
"Three… Two... One." Jane turned the key,
Click. Nothing happened, there was nothing to see.

Minnie shrieked and caressed her protruding bump,
Dick glared at the car and gave it a thump.
A man in blue opened the hood and then said,
Very assuredly, "The battery's dead."
A pink-wearing woman peered in, her head shakes,
"I don't think you're right. Also, those are the brakes.
The battery's here and you can't tell, I've looked,
But I'd take a guess it's the engine that's cooked."
As they argued, Minnie started to scream,
Between her legs ran a fast-flowing stream.
"No!" She cried loudly. "It can't come 'til we know!
How will we decide on the pink or blue bow?"

The party organized themselves into two;
The car to be fixed by those wearing blue
While the pinks tried keeping the baby in Minnie,
Dick helped by putting both hands on her ninny.
"There's a head!" He shouted. "Fix that car now!"
"Dick!" screamed Minnie. Sweat poured from her brow.
"Dick?" Matt muttered, then shouted, "A boy!"
The blues celebrated with great whoops of joy.
"No, you idiot, only the head has appeared!
We have even less time than originally feared."
The blues got back to work, then suddenly—BANG!
The exhaust blew its load with an almighty clang.

Dick anxiously yelled, "Who here saw the smoke?"
"I did!" A voice answered nearby with a choke.
Dick sighed with relief and smiled, "Who said that?"
His smile quickly faded; it was colorblind Matt.
"Dammit, do you think this is some sort of joke?"
"Kinda, but also, there was hardly any smoke!"
"I suppose there wasn't too much left of Dad,
But can we please focus? This is really bad!"
"Gender is merely a construct," Matt quipped.
"You should know that, remember when I 'flipped'?
I used to be Matilda but it felt wrong
And I'd really known I was Matt all along."

Minnie's eyes widened and sparkled with glee,
"Does this mean I choose what the baby will be?"
With one mighty scream, the baby was here,
Matt said, "This sure beats the reveal from last year."
"But what is it?" Intrigued, the crowd gathered around.
"I'm not sure—is there no color left on the ground?"
The baby erupted in genderless cries,
A couple of tears spilled from both parents' eyes.
Dick put his arm around his wife and new child,
As he realized he knew the answer and smiled,
"I suppose we'll just have to wait and see,
What this baby grows up and chooses to be."