#porchportraits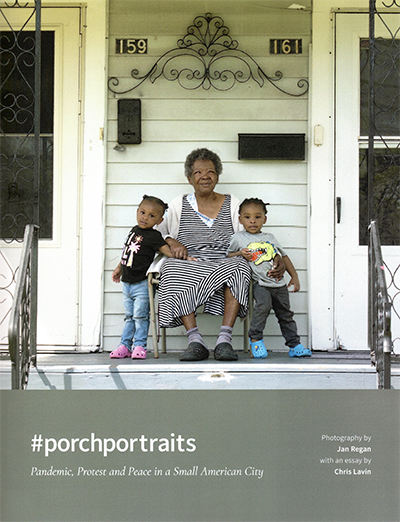 Critique by Jendi Reiter
In the pandemic's first months, when we were suddenly deprived of everyday encounters with our communities, a new genre of documentary photography sprang up. Local photographers in neighborhoods across the country posed families outdoors for socially distanced portraits, a morale-building effort to re-create our sense of belonging. Our primal need for the reassuring sight of other human faces found expression in books like Jan Regan's #porchportraits: Pandemic, Protest, and Peace in a Small American City.
Several factors made #porchportraits stand out from other entries in this genre. While national media often focused on COVID's impact on major cities, this book took the original approach of profiling a smaller community: Geneva, a city of about 13,000 in New York's Finger Lakes region.
As the accompanying essay by Chris Lavin explained, Geneva is one of many small- and mid-sized American cities trying to re-invent themselves after the centers of manufacturing shifted elsewhere. Telecommuting, tourism, and boutique industries (in Geneva's case, vineyards) have recently given such places new life. We've seen these trends play out in Winning Writers' home region of Western Massachusetts. The shift to a service economy gave these towns new hope...until the pandemic shuttered the restaurants and attractions that this model depended on. Regan's portrait of this transitional community thus has relevance beyond its borders.
The families featured were diverse with respect to age, wealth, and family configuration. They included a blind Black elder caring for her twin great-great-grandchildren, an interracial middle-aged couple whose honeymoon was postponed by the pandemic, and the president of Hobart and William Smith Colleges.
Giving a fuller picture of this significant and transformative year, #porchportraits also covers the Black Lives Matter protests that arose in mid-2020 in response to the police killing of George Floyd. Regan's dramatic and moving photos document a socially distanced die-in in a parking lot, a solemn "Back the Blue" counter-protest, and individual gestures of solidarity. These divisions—negotiated peacefully, according to Lavin's essay—mirror the cultural friction in many evolving towns like Geneva, where urban newcomers may bring different values than those held by the old guard.
The judges appreciated the balance between text and images in this entry. Photo captions were concise and informative, conveying each subject's life situation and distinctive response to COVID in just one or two sentences. The mini-stories presented were not repetitive, and the photos were given room to convey most of the information. They made up a colorful mosaic of resilience, from car parade graduations to costumed family concerts, to yoga on the front steps.
The print in the photo captions could have been larger, however. There were a few typos, mostly in the essays.
My co-judge Ellen LaFleche singled out the composition choices for special praise: "Most of the photos, especially the porch ones, contain intense vertical and horizontal lines. These lines look and feel like prison bars, and powerfully convey the reality of the early lockdown and ongoing confinement, a visual motif that is continued throughout the book. This is brilliant and powerful visual symbolism! Even the cows look imprisoned in their stalls at the dairy farm. The photographs become less confining in the section on BLM, which is the perfect visual symbolism of BLM's goals: the freedom for Black people to move freely through the world."
A fine start to our new Art Book category, #porchportraits will stand the test of time as a well-rounded and uplifting document of this historic period.
Read an excerpt from #porchportraits (PDF)
Buy this book on the author's website