Sarabande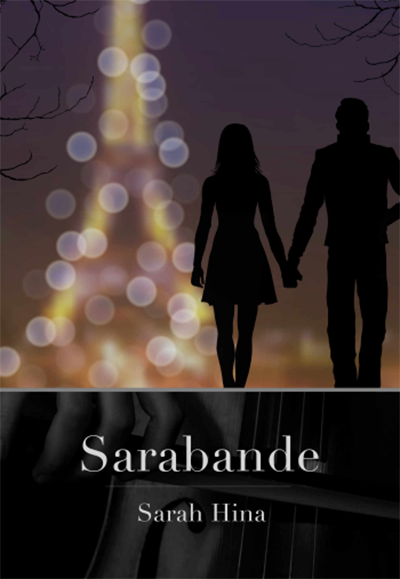 Critique by Ellen LaFleche
Sarah Hina's Sarabande is a lyrical romance novel in which two strangers are drawn together by music, archaeology, and coincidence—or perhaps fate. Spoiler alert: the following two paragraphs of this critique reveal some of Sarabande's unusual plot twists.
Colin, a young man who works as an archaeologist and museum curator, is burying his deceased cat when he digs up a treasure box left there twenty years ago by an angst-ridden teenaged girl. The contents are intriguing, and Colin does an internet search for Anna, the owner of the box. Anna has become a famous cellist who tours the world with her musician fiancé. In a bizarre turn of events, Colin suffers from an extremely rare form of epilepsy that causes grand mal seizures when he hears even a snippet of music. (This is an actual syndrome.) The two begin to correspond by email, and as you may have guessed, start to fall in love even though Colin is married and Anna is engaged. Career developments bring both main characters to Paris, where more adventures unfold.
My first reaction was to object to the many unlikely coincidences that set this romance adventure in motion. For example, there's the coincidence of Colin burying his cat in the exact spot where Anna had buried her box. There were several chance meetings in Paris that also seemed improbable. And what were the odds of a man with a music-induced seizure disorder finding the treasure box of a musician?
But the book stayed in my mind during the judging process, and thinking about it was enjoyable. I began to look at the book as a kind of magic realism adventure that builds upon improbable if not fantastical events. A few weeks after reading the book, I was chatting with a friend about how our various ancestors had met, married, and had their children. The ancestral love stories we shared all hinged on various improbable events and strange plot twists. Isn't every love story a kind of magic realism? According to my grandfather's story, I would not be here writing this review if my grandmother had not been the first young woman in their small village to bob her hair in the flapper style!
The writing in Sarabande is strong and well edited, with details and images that bring the plot and characters to light. There were almost no errors, and the font and formatting were very readable. I enjoyed the scenes that took place in the museum where Colin worked. I especially appreciated the scenes in which Anna was performing in concert. In fact, I became interested enough to look for YouTube videos of cello players. I learned a lot about the concert world and the challenges of fame. Also interesting was how Colin attempted to deal with the emotional and psychological needs of his son.
Some of the supporting characters were not as strongly fleshed out as Anna and Colin. For example, it wasn't clear to me why Colin was unhappy in his marriage, and a more vivid characterization of his wife would have been helpful. My co-judge Jendi had some qualms about idealizing a romance where a man considers leaving his wife and son to pursue an infatuation with a stranger. There were a few oversights that can't be explained by magic realism. For example, there were scenes of Colin driving through cities; I'm pretty sure that he would have lost his license after his epilepsy diagnosis. He would surely have had a seizure if music was booming from the car next to him at a stoplight.
Sarabande is an enjoyable read, especially if appreciated from a magic realism perspective. I look forward to reading more from this author.
Read an excerpt from Sarabande.