Special District: Harbin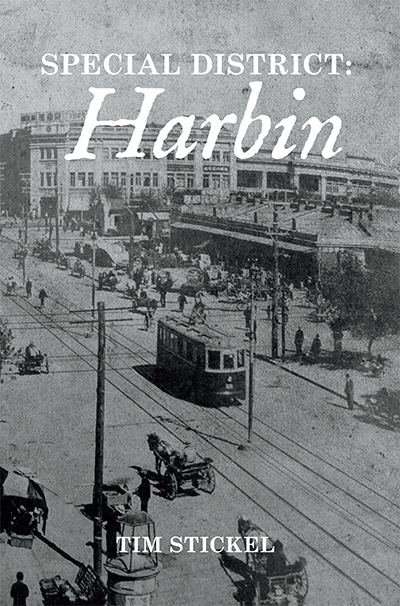 Critique by Jendi Reiter
Murder mysteries and police procedurals are some of my favorite genres to read for pleasure. At last, in Tim Stickel's historical mystery Special District: Harbin, we've found one worthy of a North Street Book Prize. Set in 1929, in a Chinese border city that's a crossroads for political struggle between the Nationalist Republic of China and the barely-established Communist government in Russia, this tale follows a young low-level policeman investigating his first homicide case.
Borya Melnikov's late father belonged to Harbin's community of White Russian refugees who fled the Communist Revolution, while his mother's family are Korean herbalists. His mixed ethnicity makes him a social outsider—not a bad position, it turns out, for developing a fresh perspective on the many strata of society he passes through, as he and his mentor, the seasoned Inspector Chinn, journey across Manchuria to Mongolia to retrace the murder victim's steps. Ultimately, Borya's unique background gives him the ability to recognize a crucial clue that other investigators missed.
Borya is a wonderful protagonist to guide us through this complex political history. He is ambitious, but in a noble way, wanting to do something meaningful and support his widowed mother and sisters. Even as a night patrolman he proves himself a hero when defending a railway bridge against Russian bombers. He's also sensitive, introspective, and a bit lonely. His relationship with Chinn, a surrogate father figure, gave the story a lot of heart.
Going into the book, I knew nothing about this historical moment and place—Asian history is sadly neglected in the traditional high school curriculum—so I was impressed with how smoothly Stickel wove the contextual information into the story. Because the focus stayed on Borya's emotions and goals, the background facts always had tangible relevance and were made memorable through his reactions to the diverse subcultures he encountered. Amateur writers over-describe mundane actions like a meal in a café, whereas Stickel's skilled portrayal of such scenes served the dual purpose of revealing character and bringing the historical period to life.
Our first-round screener, Annie Mydla, commented: "I loved this entry...There is so much here about the richness and complications of cross-cultural pollination and of modernization proceeding at lightning speed."
The murder victim, Manfred Geiger, an import-export executive in the poultry business, was flatly unsympathetic. I wanted Borya and Chinn to solve the mystery for their sake, more than I cared about what happened to Geiger. For me this was a weakness in the plot. It's fine to have a "better off dead" type of victim, but typically, mysteries with this premise compensate by making the suspects sympathetic, so that the tension arises from hoping that your favorite character isn't guilty.
Here the primary momentum derived from Borya's journey of self-discovery, as each exotic and challenging situation brought out more of his leadership potential. I enjoyed learning along with him about Mongolian shamanism and other corners of China's multi-ethnic landscape. This was enough to keep me engrossed in the story, but it would have been an even stronger book if the homicide plot had more inherent interest.
The main flaw in Special District: Harbin was the proofreading, or lack thereof. Typos and awkward run-on sentences recurred throughout. We're usually very tough about such things, so if I was willing to overlook it here, you know this must be an exceptional read. Stickel is reportedly working on a new edition, which we hope will clear up these clerical errors.
The print copy was sturdy, with professional-looking interior formatting and a readable typeface. The cover was uncluttered, with the title in old-fashioned large white type against a grayscale photo of a busy urban street traversed by rickshaws and trolley lines. From the official-sounding "special district" one gathers that this will be a book about politics and institutions, and the historical fiction aspect is conveyed by the photo. It looks like a book that's classy and literary but also packs a punch. I would just wonder whether the subtle cover photo showed up well in online booksellers' thumbnail images.
Special District: Harbin ends with a new career opportunity for Borya. I, for one, hope this means a sequel is in the works!
Read an excerpt from Special District: Harbin (PDF)
Buy this book on Amazon