Alec Solomita
Filed under: Authors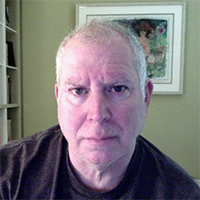 Alec Solomita has worked as an editor, critic, fiction writer, and poet. He graduated summa cum laude from Amherst College in 1989 and went on to pursue a Ph.D at Princeton (he didn't catch it).
Alec's reviews and essays have appeared in The New Republic, The New Criterion, The Wall Street Journal, and elsewhere. His fiction has been featured in, among other publications, The Adirondack Review, The Mississippi Review, and Southwest Review. He's published poetry in many venues, including MockingHeart Review, Literary Orphans, and Turk's Head Review. He's been shortlisted for the Bridport Prize and by Southword Journal and named a finalist by the Noctua Review. His chapbook Do Not Forsake Me (Finishing Line Press) came out in September 2017.
A reviewer and illustrator for over a decade for the Harvard Gazette, Alec left his job in 2009 to care for his ailing wife, novelist Joan Chase. The two live in Massachusetts.
Twitter: https://twitter.com/solomitaalec
Winning Entry: Return
Contest Won: Tom Howard/John H. Reid Fiction & Essay Contest 2017, Honorable Mention