Allison Hong Merrill
Filed under: Authors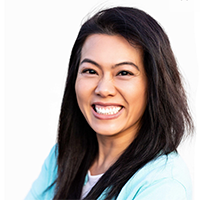 Allison was born and raised in Taiwan and arrived in the US at age 22 as a university student. That's when she realized her school English wasn't much help when asking for directions on the street or opening a bank account. By recording each of the classes she took––including physical education––and reviewing the tape every night for a year, she eventually learned English well enough to earn an MFA in Writing from Vermont College of Fine Arts. But please excuse her if she misuses the verb tenses or mixes up the genders in third-person pronouns when she speaks. It's no secret––English is a hard language to learn.

Allison writes in both Chinese and English, both fiction and creative nonfiction, which means she spends a lot of time looking up words on dictionary.com. She is a Pushcart Prize nominee and the Grand Prize winner of the 2019 MAST People of Earth writing contest. She is also the inaugural winner of Sandra Carpenter Prize for Creative Nonfiction, first-place winner of the 2019 Segullah Journal writing contest, first-place winner of the 2020 Opossum flash contest, runner-up winner of the 2020 Q2 Women on Writing Creative Nonfiction essay contest, third-place winner of the Storymakers Contest, and a finalist for the 2019 Eyelands Book Awards, the 2019 DL Jordan Prize for Literary Excellence, the 48th New Millennium Writing Award, the Serendipity Memoir Discovery Contest, the 2019 Fish Publishing Short Memoir Prize, and the 2020 Midway Journal flash contest. She has also won an Honorable Mention in both the 79th and the 89th Annual Writer's Digest Writing Contests.
Allison's work can be found in the Life Story Anthology (Taipei, Taiwan), Liahona Magazine (Taipei, Taiwan), Ensign Magazine, Flying South Literary Magazine, Dialogue Journal, Motherscope Magazine, Past-Ten Journal, Cosmonauts Avenue, and LDS Beta Reader Mind Game Anthology. Her memoir, 99 Fire Hoops, is forthcoming on September 21, 2021. Visit Allison on the web, Instagram, Facebook, and Twitter.
Website: https://allisonhongmerrill.com/
Twitter: https://twitter.com/xieshou/
Contest Won: Tom Howard/John H. Reid Fiction & Essay Contest 2020, Honorable Mention