F.J. Bergmann
Filed under: Authors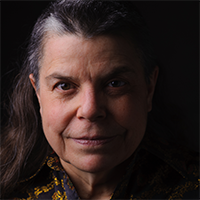 F.J. Bergmann lives in Madison, Wisconsin (for at least the fifth time), and imagines tragedies on or near exoplanets. She is the poetry editor for Mobius: The Journal of Social Change, the vice president of the Science Fiction & Fantasy Poetry Association, for which she edited Star*Line, its flagship quarterly, for five years, the managing editor of MadHat Press, and poetry editor for Weird House Press. She freelances as a copy editor and book designer.
Her writing awards include SFPA Rhysling Awards for both long and short poems and SFPA Elgin Awards for two recent chapbooks: Out of the Black Forest (Centennial Press, 2012), a collection of conflated fairy tales, and A Catalogue of the Further Suns, précis of first-contact reports from interstellar expeditions, winner of the 2017 Gold Line Press manuscript competition. She was a 2019 quarter-winner for Writers of the Future. Venues where her poems have appeared include Asimov's SF, Missouri Review, Polu Texni, Spectral Realms and Vastarien; her speculative fiction has been published in Abyss & Apex, Little Blue Marble (CA), Pulp Literature (CA), Soft Cartel, WriteAhead/The Future Looms (UK), and elsewhere.
She has competed at National Poetry Slam with the Madison Urban Spoken Word slam team. She has no academic literary qualifications but is kind to those so encumbered. In a past life, she worked with horses. She thinks imagination can compensate for anything.
Website: https://fjbergmann.com/
Twitter: https://twitter.com/FJBergmann
Contest Won: Tom Howard/Margaret Reid Poetry Contest 2019, Honorable Mention, Tom Howard