Gerardo Mena
Filed under: Authors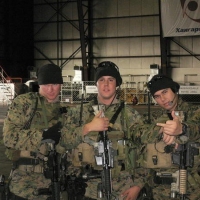 My name is Gerardo Mena. I am 28 years old and I'm a decorated Iraqi Freedom Veteran. I was in Special Operations with the Reconnaissance Marines for six years and I was awarded a Navy Achievement Medal with a V for valor for multiple acts of heroism while under enemy fire. When I completed my military enlistment I returned home to Missouri and began taking courses to complete my Secondary Education degree with an emphasis in Language Arts and I began to take poetry classes and found that they helped me deal with many of the events that I witnessed while overseas and in a war zone. It was not until I met Brian Turner, the acclaimed author of Here, Bullet and the newly published Phantom Noise, that I had the confidence to know that my words mattered.

I still have a year and a half left until I complete my degree but I've begun some student teaching and was just recently hired to be a wrestling coach at the local high school. I know that teaching is my calling now and that preparing high school students to lead productive lives will be my life's work. I feel incredibly blessed to also have the love and support of my wife and two-year-old son, and the many loyal friends that I have made on my life's journey so far.

As for the picture I've attached, I'm the guy on the right. This picture is my favorite and has special sentimental value because the guy on the far left was a great friend that was Killed in Action on January 23rd, 2007 while we were in Iraq together, and his death sort of opened a "floodgate" for my poetry. The picture is of us getting ready to provide security in Mongolia right before President Bush lands for his Asia visit in 2005.

For more information on Gerardo "Tony" Mena and his music, visit www.facebook.com/tonymena.
Website: https://www.gerardomena.com/
Contest Won: War Poetry Contest 2010, First Prize