Jessica Goody
Filed under: Authors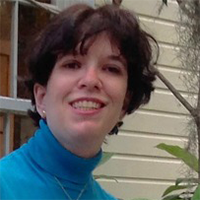 Jessica Goody's debut poetry collection Defense Mechanisms consists of seventy-five poems, mostly free verse, deeply personal confessional and narrative pieces. Jessica has cerebral palsy, and the public perception of disability and the many aspects of living with a handicap are topics she frequently explores in her work. Anyone who struggles with physical challenges or mental health issues will be able to relate to her experiences, because the theme of Defense Mechanisms is hope—the triumph over pain and trauma and the resilience of the human spirit.
Publisher Christopher Dow says, "Highly observant and deeply moving, the seventy-five poems in this collection from award-winning poet Jessica Goody utilize themes of difference and affinity to open vistas into the nature of reality. Whether describing the confines of an iron lung or the liberty of the open sea, her nuanced language delivers unforgettable images of a world that holds more questions than answers. There is pain here, and loss, but also joy and freedom in which the fetters of physicality become the means to explore what it means to be fully human."
Jessica's writing has appeared in over four dozen publications, including The Wallace Stevens Journal, Event Horizon, The Seventh Wave, Third Wednesday, The MacGuffin, Harbinger Asylum, The Maine Review, and Chicken Soup for the Soul. She won the 2016 Magnets and Ladders Poetry Contest and received second prize in the 2015 Reader's Digest Poetry Contest. Defense Mechanisms was featured at the 2017 AWP Conference and Bookfair's Disability Literature Consortium and was selected as a Book of the Month by The Creativity Webzine.
Jessica was born and raised on Long Island. She currently lives in the South Carolina Lowcountry, where she is a columnist for SunSations Magazine. Her second poetry collection, Phoenix: Transformation Poems, was released by CW Books in 2019. A student at Southern New Hampshire University, Jessica is majoring in creative writing with a concentration in poetry.
Twitter: https://twitter.com/Seabert1521
Website: https://www.jessicagoody.com/
Contest Won: North Street Book Prize 2019, Honorable Mention