Linda Muhlhausen
Filed under: Authors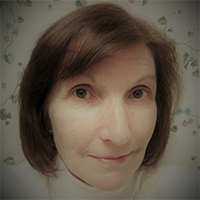 Linda Johnston Muhlhausen believes in the humanist potential of language in general, and poetry in particular. She takes inspiration from observation of the world around her, other poems and poets, the synergy derived from a cat attached to her lap and a poster attached to the wall. The poster of Synechdoche, New York, won in a random drawing, daily exhorts her to "work the movie out and surrender to its spell." That challenge continues to niggle, but in life she finds that poetry helps with both the working out, and the surrendering.
Linda co-hosts the monthly River Read Reading Series for poetry and other genres in Red Bank, New Jersey. She is a member of the Jersey Shore Poets and chair of a fiction critique group. Her poetry and poetry book reviews have been appeared in a variety of magazines, most recently online at Glass Poetry Journal's "Poets Resist", and forthcoming in Panoplyzine. She was nominated for a Pushcart Prize for a poetry book review that appeared in This Broken Shore literary review.
She also writes fiction, drama, and creative nonfiction. Her first novel, Elephant Mountain, was published in 2018 by Blast Press. She earned a Master's degree in English/Creative Writing from Monmouth University in 2012—fully 40 years after her undergraduate degree.
Website: https://elephantmountainanovel.com/
Contest Won: Wergle Flomp Humor Poetry Contest 2019, Honorable Mention