Soma Mei Sheng Frazier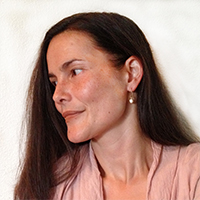 Soma Mei Sheng Frazier is the final judge of the Tom Howard/Margaret Reid Poetry Contest. She is an East Coast Native living in the San Francisco Bay Area.
Her debut fiction collection, Collateral Damage: A Triptych, won the 2013 RopeWalk Press Editor's Fiction Chapbook Prize, and has earned praise from Nikki Giovanni, Sarah Shun-lien Bynum, Antonya Nelson, Molly Giles and others. You can find her work online at Eclectica Magazine, Carve Magazine, Eleven Eleven, and Kore Press. Frazier's second fiction chapbook, Salve, was published in March 2016 by Nomadic Press, and new work is forthcoming in Glimmer Train and ZYZZYVA. Read this selection of poems and listen to her read with other Nomadic Press authors on KPFA 94.1 FM.
Her writing has been singled out by Robert Olen Butler, Nikki Giovanni, Jim Shepard, Frederick Barthelme, and others, and placed in literary competitions offered by Zoetrope, Glimmer Train, the Mississippi Review, HBO, and more. Her poetry and fiction have been nominated for the Pushcart Prize, and one of her award-winning short fiction pieces was named a Notable Story of 2009 by the storySouth Million Writers Award authors. Read Soma's brief Glimmer Train essay on literary craft.
Soma is Chair and Assistant Professor, English and the Humanities, at Cogswell Polytechnical College, and Founding Editor of Cog: a multimedia publication. She has also taught at the Sarah Lawrence College Summer High School Writers Program, Holy Names University, Gavilan College, Oakland School for the Arts, and Valhalla Women's Correctional Facility, and worked at KQED, the Bay Area's public media source.
Twitter: https://twitter.com/SomaMeiSheng
Website: https://somafrazier.com/