Soma Mei Sheng Frazier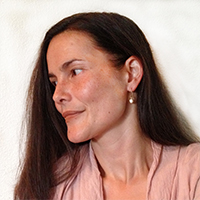 Soma Mei Sheng Frazier is the final judge of our Tom Howard/Margaret Reid Poetry Contest. Soma's third prose chapbook, Don't Give Up on Alan Greenspan, was selected as the winner of CutBank's 2018 contest and released in 2019. Her previous fiction chapbooks—Salve (Nomadic Press) and Collateral Damage: A Triptych (RopeWalk Press)—earned praise from Nikki Giovanni, Antonya Nelson, Sarah Shun-lien Bynum, Molly Giles, Michelle Tea, and others. In 2015 she founded COG, a multimedia literary publication that she ran with her undergraduate students at Cogswell, which has featured Dave Eggers, Opal Palmer Adisa, Gish Jen, Denise Duhamel, and many more. Read this selection of poems and listen to her read with other Nomadic Press authors on KPFA 94.1 FM. Read Soma's brief Glimmer Train essay on literary craft.
Soma recently relocated from California to New York for a professorship at SUNY Oswego. Her sweet tooth demands sugar in everything but literature. She is now busy revising a novel.
Website: https://somafrazier.com/
Twitter: https://twitter.com/SomaMeiSheng