Sandra Sidi and Lauren Serrano
Filed under: Authors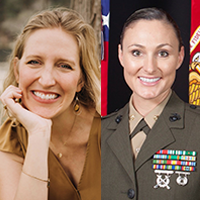 Sandra Sidi worked as a DOD analyst for the US Military in Iraq (2007, 2008). She was a Fellow for the Association for the Study of the Middle East and Africa, where she studied with the Israeli Defense Forces during the height of the Israel-Hezbollah crisis of 2006. She studied Hebrew and Arabic as she earned a Master's Degrees in Political Science from Yale University, and won a National Science Foundation Graduate Research Fellowship for her research on bargaining with insurgent groups. She received her Master's in Fine Arts from Texas State University, with a writing focus on Women in Combat, Israeli soldiers, and American soldiers.
She has published in The Atlantic, Narrative Magazine, Longreads, and Creative NonFiction, an Anthology. Her debut essay "What I Wish I Knew About Sexual Assault in the Military" was published in The Atlantic in October 2019, and was chosen as the top read of all published work in the month by Longreads Editors in September 2019. Her essay "The Bridge" was published in Narrative Magazine as a Story of the Week in 2021, and chosen as Narrative Magazine's Top Five Stories of the Week for 2020-2021. Her Short Story "To Save a Butterly" about an Israeli bomb tech won second place in Narrative Magazine's Short Story Prize. Her novel excerpt "Alon and Gal Go For a Drive" about two Israeli soldiers on the Israel-Lebanon border was published in Narrative Magazine's 2022 Winter Issue, and her short story "The Garden of Israel Will Never Sleep" is forthcoming in Narrative Magazine Fall 2022.
She has been a guest instructor at the US Marine Corps University Expeditionary Warfare School, as well as Dartmouth College, where she lectured on female integration in combat, sexual assault prevention, and US foreign policy in Iraq. She currently teaches writing at Texas State University and is working on a novel about Israeli soldiers.
Major Lauren Serrano (formerly Reisinger) is currently a student at the School of Advanced Warfighting. She is from San Francisco, California. She commissioned in June 2009 through the Naval Reserve Officer Training Corps program and graduated from Drexel University with a Major in Middle Eastern Studies and dual Minors in Arabic and World Politics. She has studied abroad in Cairo, Egypt and Amman, Jordan.
Maj Serrano's military occupational specialties include: Counterintelligence/Human Intelligence (CI/HUMINT) officer, Middle Eastern Foreign Area Officer, and Weapons and Tactics Instructor. Her first assignment was to CI/HUMINT Company, 3d Intelligence Battalion in Okinawa, Japan from October 2010 to May 2014.
From August 2012-July 2013 Maj Serrano deployed to the Office of Security Cooperation-Iraq (OSC-I), Department of State Embassy - Baghdad. At OSC-I, Maj Serrano first served as the Executive Assistant to the Chief of Staff, then as an Intelligence Analyst in the J-2 shop and Collector with the Defense Attaché Office. She spent part of her deployment in Erbil, Iraq providing security assistance to the Kurdish Peshmerga forces.
From 2014-2017 Maj Serrano completed a fellowship in the Junior Officer's Strategic Intelligence Program (JOSIP). Her assignments included fellowships at the Department of State Bureau of Intelligence and Research, the Federal Bureau of Investigation, and as a resident master's student at the National Intelligence University (NIU).
From 2017-2019 Maj Serrano served as the Intelligence Fusion officer on the I Marine Expeditionary Force staff in Camp Pendleton, California. From June 2019-2020 she served a Company Commander and subsequently the Battalion Operations Officer at the Marine Cryptologic Support Battalion, National Security Agency, Fort Meade, Maryland. Maj Serrano served as the Aide-de-Camp to the Chief of Naval Operations from December 2020-June 2022.
Maj Serrano is the recipient of the 2014 Chase writing award and the 2020 Hogaboom Leadership writing award from the Marine Corps Association, and the 2015 LtCol Kuszewski NIU writing award recipient for the best Master's Thesis on the Operations-Intelligence Relationship. She is published in the Marine Corps Gazette, Small Wars Journal, and Foreign Area Officer Association Journal. Maj Serrano is also an elected member and secretary for the FAO Association Board of Governors.
Maj Lauren Serrano is married to Maj David Serrano, who is currently serving as the USMC Cyber Instructor at the United States Naval Academy. Together they have two children, Alexander (5) and Christine (4).
Website: http://sandrasidi.com/
Contest Won: Tom Howard/John H. Reid Fiction & Essay Contest 2022, Honorable Mention