Tamako Takamatsu
Filed under: Authors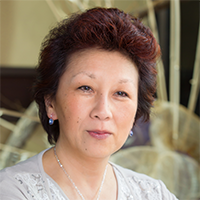 Tamako Takamatsu grew up in Tennessee and Texas but has lived most of her adult life in Tokyo. She received a bachelor's degree in Applied Piano from the Oberlin Conservatory of Music.
Although her first love has always been reading, she apparently was born with the "I-only-wish-to-serve" gene. As a result, for many years she put aside all thoughts of writing and instead used her bilingual skills to work as an interpreter, helping to enhance the words of others.
She did, however, write a previous version of this short story, which received the top prize in the Wingspan Short Story Competition sponsored by All Nippon Airways (ANA).
With the pandemic and the advent of Zoom, she is now gratefully connecting with writers throughout the world. Still compelled to serve—but now wishing to serve her stories—she has been hard at work on her first novel, the first in a planned trilogy.
She was recently shortlisted for the Spotlight First Novel Award 2021, sponsored by Adventures in Fiction in the U.K. Follow her on Instagram.
Photo credit: Katsuo Sugano
Website: https://tamakotakamatsu.com/
Contest Won: Tom Howard/John H. Reid Fiction & Essay Contest 2021, First Prize