Tony Myres
Filed under: Authors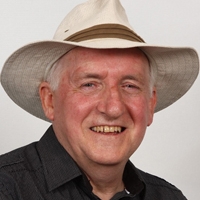 Tony Myres was born in Bristol, England in 1944. His stories have appeared in several independent publications, including Volumes 1 and 2 of The Black Lake Chronicles, as well as a self-published collection of short stories entitled The Go-Between.

Tony's storytelling explores a mixture of personal and shared histories. His stories provide emotive snapshots of growing up in post-war England, of the struggle to understand himself and his family, and of the unique experiences of a British boarding school. Tony takes the reader through the variety and richness of personal challenge, familial eccentricities, and the ultimate joy that comes from exploring life's mysteries with an open heart and curious mind.

A recipient of the Government of Canada Award of Merit (1997), the Queen's Golden Jubilee Medal (2002), and named Health Canada's first Scientist Emeritus upon retirement from public service in 2004, Tony lives and writes in Ottawa, with his wife Rita, close to his three children and four grandchildren.
Contest Won: Tom Howard/John H. Reid Short Story Contest 2012, First Prize