William Pitt Root
Filed under: Authors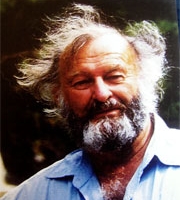 William Root's poetry has received numerous honors, including three Pushcart Prizes, the Stanley Kunitz Prize from Columbia journal, the Guy Owen Prize from Southern Poetry Review, a Borestone Award, and several Pulitzer nominations. He has been awarded fellowships from the Rockefeller Foundation and the John Simon Guggenheim Foundation, Stanford University's Stegner Writing Grant, a United States/United Kingdom Exchange Artist Fellowship, and the National Endowment for the Arts writing grant.

Root's eleven published books include Trace Elements from a Recurring Kingdom (1994) and White Boots: New and Selected Poems of the West (2006). His poems, stories and reviews have appeared in hundreds of magazines, including The New Yorker, The Atlantic Monthly, The Nation, Harper's, Commonweal, APR, Poetry, Parabola, Ploughshares, Georgia Review and drunkenboat.com, and in numerous anthologies including Comeback Wolves (2005), Rough Places Plain: Poems of the Mountains (2005), Homage to Vallejo (2005), Family Matters (2005), Noble as They Come: A Poetry of Horses (2005), Where We Live: The Northwest (2005), The New Yorker Book of Poetry, The Generation of 2000: Contemporary American Poets, The Morrow Book of Younger American Poets, The Lexington Guide to Literature, Strong Measures: 20th Century Poets in Traditional Forms, Crossing the River: New Poets of the American West and Poets of the Southwest.

After many years as a "coach-class jet-setter"—commuting bi-weekly between Tucson (where he was poet laureate 1997-2002) and Manhattan (where he taught writing and literature at Hunter College since 1986)—Root and his wife, poet Pamela Uschuk, have settled in Southwestern Colorado near the Weminuche Wildreness with a cadre of animal companions. When not writing, acting as poetry editor for Cutthroat, A Journal of the Arts, or traveling with Pamela to give readings/workshops (most recently in Prague, Durango and Capetown), Root enjoys hiking, kayaking, canoeing or just heading off for the backcountry with his white wolfdog Happy and an old SLR Nikon in his even older Land Cruiser. Poetry, he suggests, is a news and weather report from the soul.
Contest Won: War Poetry Contest 2006, Second Prize