afro/latin/a
Illustration by Malachi Lily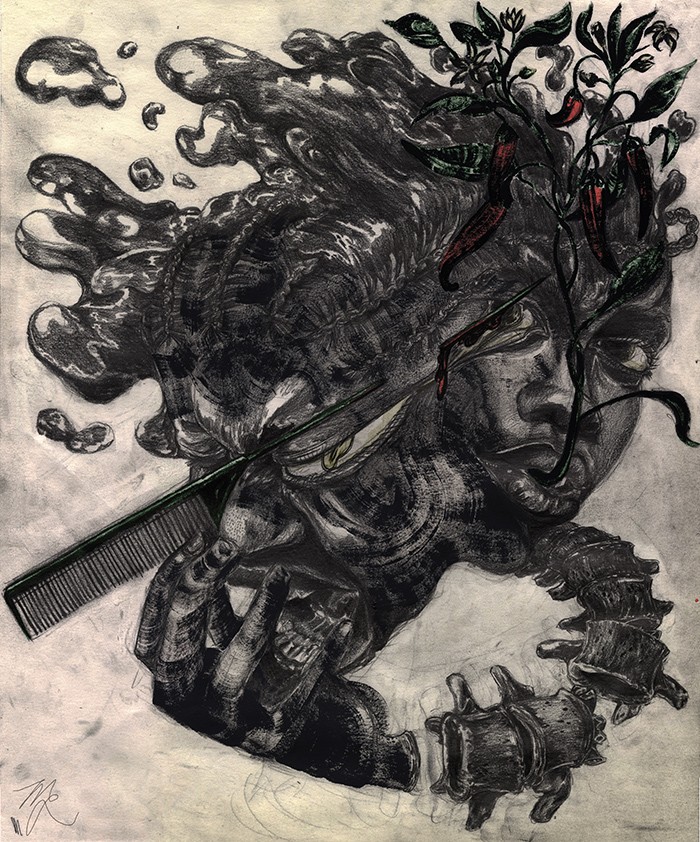 afro like a new church, a new sabbath in bathroom mirror pews, my bonnet slid back: a confession, a rattail comb caught the holy ghost of a side part.

latin like tostones. chicharron. my seasoning needs seasoning and there's no such thing as too much
sofrito.

a meaning woman (spine water blood everything green)

afro like Hausa Mende Wolof, like another unapproved border, like something else stolen and
Black wandering to drums now a soundtrack for slaughter.

latin like conquistador. who is my neighbor and who is his father, who got the land, like whose face
don't you see in the telenovelas? como se dice paper bag test? como se dice chattel? como se dice redlining?
are these our slaves or your slaves? fetch the interpreter.

a meaning woman. no le pegue a la negra. rape subtitled. meaning I've heard our women scream in every
language there is.

afrolatina like misnomer. like south africa. giving everything a new name and bleeding out a mother
tongue. Yoruba long beaten from my lips. Kunte skinned: toby. Heru is your new jesus and old sin. my
god is your god, my land is your land, my names are your names now.

afrolatina like double-consciousness, Stockholm syndrome. i'm

Afrikan like Winnie and Makeba. like the boat docked, let my sister off before me. like my hair does
this in Ayiti and the bronx

Afrikan like say my name and say it right. Azania. Uzoamaka. like call me toby again. I dare you.
This poem previously appeared in Bayou Magazine.