Bitter Fruit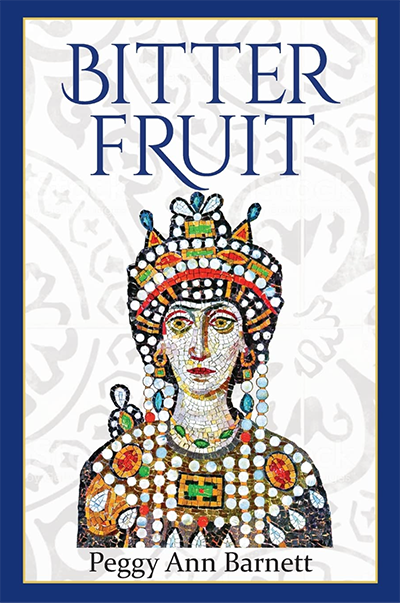 Critique by Jendi Reiter
Who's here for a deep dive into 12th-century heresies? Definitely me. Whether you've never heard of the Cathars before, or your favorite book in college was Denis de Rougemont's Love in the Western World (me again), Peggy Ann Barnett's historical novel Bitter Fruit will stir your heart to care about the nobles, clerics, troubadours, and con men of Narbonne in 1152. Open the pages and immerse yourself in a long-vanished world brought back to life.
Bitter Fruit stood out from others in its genre because of its vivid sensory reconstruction of its setting and its unusual premise. A lot of historical fiction set in the Middle Ages focuses on familiar characters in the courts of England and France. This book taught me about a cross-cultural encounter I hadn't heard about before, when recently Christianized Vikings from Norway stopped in the South of France on their pilgrimage route to Jerusalem.
Barnett wrings humor out of this meeting of hot and cold. The Catholic residents of Narbonne are enthralled by the burly warriors yet suspicious of how close they remain to their pagan roots. The Northerners find the luxuries of Mediterranean climate and cuisine to be seductive, if somewhat hard to digest. They're in Narbonne to sell a fake relic, a "unicorn horn" made from a narwhal tusk, to raise money for a pilgrimage that will expiate the sins of their violent pagan past.
Expedition leader Rogenvaldr Kali Kolsson, the Earl of Orkney, and his right-hand man Bishop William convince themselves that the end justifies the means. But Rogenvaldr wasn't expecting to fall in love with the woman he's trying to cheat: Viscountess Ermengarde of Narbonne, the ruler of the city-state, who has her own problems with hanging onto power as a young widow. Ermengarde's intrigue-ridden court includes her confidant Countess Beatritz, secretly a member of the forbidden Cathar sect; an archbishop obsessed with building an impressive cathedral; and a repulsively ascetic monk in town to sniff out heretics like Beatritz. When young girls start getting murdered shortly after the Vikings' arrival, the Viscountess is torn between her passion for the Earl and her people's superstitious panic about the un-Christian influences the newcomers have brought in.
The Cathars or Bons Hommes were a radical religious sect that disdained the world and the flesh even more than your typical medieval Catholic. They followed the Gnostic heresy that the physical world was the creation of an evil demigod. Through celibacy, vegetarianism, and fasting to the point of death, believers strove to liberate the spirit, which was good, from its fleshly prison. Bitter Fruit doesn't gloss over how grotesque this self-mortifying lifestyle could be, yet these characters' genuine faith and courage makes you root for them against the proud and greedy princes of the official church. One can understand why some suffering people would be drawn to reject the world entirely, when both church and state were morally compromised.
If this all sounds complicated…well, it is. Barnett helpfully includes a dramatis personae at the beginning, separated into real-life figures such as Rogenvaldr and Ermengarde, and fictional characters. By the end of the story, the many layers of political machinations come together in a satisfying, if tragic, way. However, I felt that the story jumped around too much between minor characters in the beginning. These scenes were interesting in themselves, but the narrative arc wasn't clear. It took me awhile to get clear on who everyone was and what they wanted.
Poor proofreading made Bitter Fruit a frustrating read, at times. Typos in names, words, and dates were a persistent problem. The book could have used one more round of editing to clean up the text and tighten the narrative structure. Nonetheless, I really enjoyed it. The sights, smells, and people of Narbonne will linger in my memory.
Read an excerpt from Bitter Fruit (PDF)