Daughter of Destiny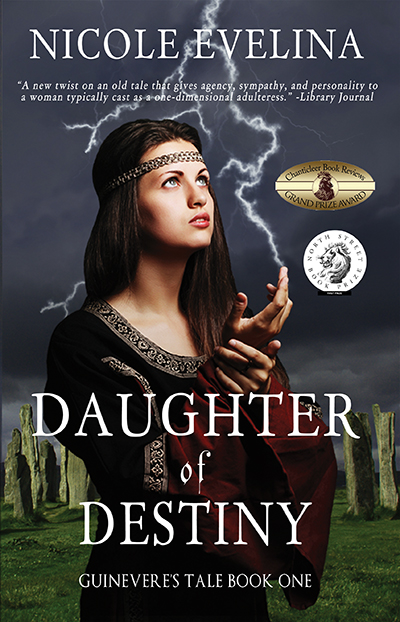 Critique by Ellen LaFleche
Nicole Evelina's Young Adult novel Daughter of Destiny is a lyrical, imagistic retelling of the Arthurian legend. A young Guinevere comes of age as a priestess in Avalon. Guinevere leaves home at the age of 11 and travels to Avalon on a mystical boat, a symbolic rite of passage into womanhood. In the second half of the book, Guinevere returns home after the death of her mother. This is the first book in a promising fantasy series. Because the novel is heavily plot-driven, especially regarding Guinevere's adventures in the second half, this critique will focus on writing style so as not to give away plot twists.
During the judging process, I talked with a 16-year-old family member who is an avid reader of young adult fiction. I asked her what she most enjoys in a YA novel and she immediately answered "world building". The writer's skill in creating a lushly imagistic fantasy world was a major reason for her first place award. Nicole Evelina has suceeded in creating a YA novel that is a pleasure for adults as well as teenagers to read. Although I am not normally a reader of fantasy fiction, I loved being immersed in the misty, magical land of Avalon.
Here is a lush passage related to the abundance of flowers and herbs in Avalon:
"Tiny blooms of chamomile magnified the sun while tall reeds of dill nodded their hairy stalks and seeded starbursts over thick carpets of fragrant thyme and marjoram. In the far shadows of the wall, foxglove bells stood sentinel over purple-winged wolfsbane, perky clumps of larkspur, seductive nightshade, and other herbs not meant for untrained hands. These were the herbs of the goddess, which like her power, could bring life or death, depending on the strength and skill of the one using them."
Because of the pleasure of reading passages like this, and the writer's ability to portray the interesting relationships that developed among the female inhabitants of Avalon, I enjoyed the first half of the novel a bit more than the second half. I could feel the magic, smell the flowers, sense the morning mist on my skin.
The female relationships in Avalon were portrayed with depth and realism. The conflict between young Morgan and Guinevere was portrayed as complex and ambivalent without relying on stereotypes of shallow and catty female friendships.
I had a bit of trouble keeping track of places and the names of various Saxon tribes, but the author included well-researched notes that helped me understand details of time and place. A few words and concepts such as paranoia and (psychological) triggering did not seem to fit into the historical time period.
We do wish that authors would be more conscious of heteronormative assumptions about female sexuality and patriarchal ideas of purity. When the senior priestess tells the novices at Avalon to preserve their "maidenhead" (virginity), it would have been more sensitive and inclusive to use the term "celibacy" instead. Surely in 2018 we know that not all 11-year-old girls are straight, or have been allowed to keep their virginity safe from adult predators. Similarly, in the description of the Beltane fertility ritual where the female novices have sacred sex with young Druid men, the narrator explains that on this holiday "every woman" is the Goddess and "every man" is the God. As she explains in the notes, Evelina had a lot of leeway to invent the religion of Avalon, so it was disappointing that she followed the most queer-erasing version of Wicca. These may seem like minor complaints, but they have a major impact on whether a book is welcoming to those young readers who most need an uplifting feminist saga.
The book is well-edited with few errors and a strong and consistent writing style. The hard copy edition had a sturdy binding with readable print and margins. This title is somewhat stereotypical, but the cover image of a young princess is a visual invitation into this wonderful adventure.