Fighting Chance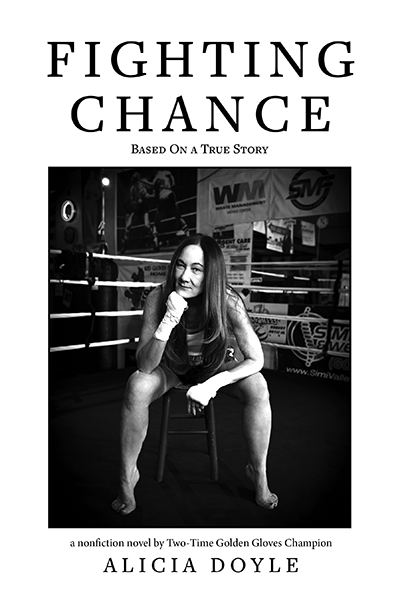 Critique by Jendi Reiter
Award-winning journalist Alicia Doyle's unique, fast-paced memoir Fighting Chance recounts her transformation into an amateur boxer in the late 1990s, and how this demanding sport helped her process her buried rage and pain from a volatile childhood.
At age 28, as a reporter for the Ventura County Star newspaper, Doyle wrote a feature on Kid Gloves, a community center that gave boxing lessons to at-risk youth. The research project altered her negative impression of the sport. Having just broken up with an abusive boyfriend, a situation with echoes of her parents' high-conflict marriage, she decided to try boxing as a physical outlet for her anger and shame. She ended up pursuing this unlikely passion to win two Golden Gloves championships, briefly turning pro at age 30 in 2000, before returning to a full-time journalism career.
Doyle's writing style is unadorned and concise, reflecting her journalistic background. Occasional repetition of clichés like "inner demons" and "blood, sweat and tears" was the only fault we could find in her writing. She always gives enough information to situate the events in a particular place and time, and moves smoothly back and forth between the main narrative and episodes of backstory. Many of our other entrants could learn something from her story-structure skills. Photos and press clippings from her boxing matches enhance the storytelling.
As one might expect from a book about boxing, Fighting Chance contains graphic, but never gratuitous, depictions of violence. Throughout the retelling of her sports career, Doyle constantly reflects on the ethics of dealing out and receiving punches, and what it tells her about her own psychology. Trauma survivors are often drawn to intense physical experiences, such as kink and martial arts, as a way to re-enact and re-script their embodied memories in a controlled setting. Doyle gains insight into her family legacy of domestic violence by pushing her body to its limits.
Fighting Chance gives readers a look into the issues faced by women in sports. Female boxers, still a minority, were even more rare 20 years ago. Doyle experiences the paradox of being lauded for her uniqueness, while struggling to be taken seriously in a macho subculture where a woman's usual role is as a scantily clad "ring card girl". The judges liked the twist that this book was not only about surviving adversity, but about a woman who took the initiative to transform herself dramatically.
The book design was simple and polished, with a black-and-white cover photo of the author in a confident pose in front of a boxing ring. Typos were scarce. The high gloss on the cover detracted from the professional design; traditionally published trade paperbacks usually have a matte cover nowadays. We weren't sure what was meant by the subtitle "a nonfiction novel" as these terms are contradictory. Perhaps, as a responsible journalist, Doyle wanted to indicate that conversations were reconstructed from memory rather than direct quotes, hence the other subtitle "based on a true story". We would advise taking these subtitles out because they cause confusion about how to market the book.
During this difficult year, we were happy to read an upbeat account of endurance and empowerment. Fighting Chance is an inspiring human-interest story for sports fans and feminists alike.
Read an excerpt from Fighting Chance (PDF)
Buy this book on Amazon