Alicia Doyle
Filed under: Authors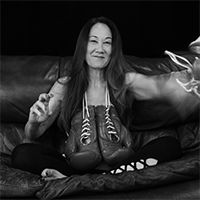 Before I started boxing at age twenty-eight, I viewed the sport as the dark side. My paradigm shifted in 1998 when I worked as a newspaper journalist and went on assignment at a boxing gym that served at-risk youth. While reporting this story, I fell in love with boxing, and for the next two years, fought competitively as one of only a few hundred women in America in this male-dominated sport. I earned my ring name—"Disaster Diva"—early on in the game for winning two Golden Gloves Championship titles and three wins by knockout. When I turned pro in 2000, I joined a small group of professional women boxers in the United States, and my pro debut at age thirty earned a place in history as the California Female Fight of the Year.
In the boxing gym, surrounded by men, I broke out of my comfort zone to earn respect for my athletic ability. This task required stripping away my femininity and the insecurities associated with being a woman in their world. I shed blood, sweat and tears alongside them, and worked twice as hard to prove myself before they accepted me as one of their own. The point is—and this is necessary to understand the difference between male and female fighters—in the boxing ring, men take for granted they are men. Women never forget they are women in this masculine space where femininity and fighting is a paradox.
Boxing is described as a noble art of self-defense, the sweet science, a channel for courage, determination and self-discipline. Boxing combines athleticism with skill, strength and artistry, and those who stay with boxing learn important skills for life: focus, heart and dedication—and how to get up when knocked down. I never expected boxing to infuse my psyche emotionally, spiritually and mentally, and put me on a path toward enlightenment. To this day, the skills I discovered in the ring translate to everyday life. I learned that the fight starts from within—and when faced head-on with conviction, honesty, vulnerability and faith, the battle is sublime.
Website: https://aliciadoyle.com/
Twitter: https://twitter.com/DoyleAuthor
Contest Won: North Street Book Prize 2020, First Prize