Her Widow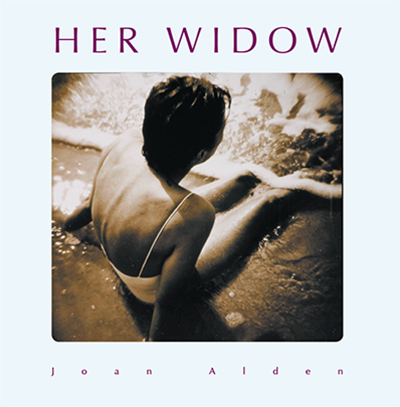 Critique by Ellen LaFleche
Full disclosure: after losing three family members, including my husband, in a harrowing three-month period, I read many books about grief. These included self-help manuals about grief as well as personal memoirs. While it's always helpful, if not comforting, to read about a shared experience, a number of books tried too hard to force the grief experience into clinical notions of bereavement. There's nothing inherently wrong with a writer connecting personal experiences with current psychological theories, but I found that many writers overlooked cultural, gendered, and personal issues in an effort to force their story to dovetail with current narratives about grief; for example, the writer who apologized that she did not go through stereotypical bouts of intense weeping or the many memoirists who berated themselves or defined themselves as psychologically sick for feeling grief after the culturally prescribed six-month period (defined as "complicated grief" needing clinical intervention).
I share my personal story here to make it clear that I can't help approaching grief memoirs with an extra-critical eye. Her Widow, a book written in letters to the author's deceased wife, not only exceeded my expectations but helped me to understand why so many books about bereavement seem to miss the mark.
As Jendi noted: "This is a book with lovely writing and a good structure, moving between past and present, grief and joy. It is a significant document of lesbian lives that felt very genuine. "
The important word here is genuine. Joan Alden documents bereavement through a series of letters to her deceased wife, Catherine Hopkins. There are no clinical theories here; rather, Alden's everyday experiences show us that all grief is complicated, that it goes on and on even as she performs the necessary actions of everyday life, and ultimately, that grief is the price we pay for love. She shows us that what looks like resiliency to the outside world—going to work, coordinating house repairs, and enjoying time with friends—does not mean that grief is coming to an end. She doesn't flinch when showing us the horrors of Catherine's slow dying process from ovarian cancer, but does so in a way that honors Catherine's bodily privacy while honoring their enduring love for each other.
Early on, Alden shows us the very beginning of her love story:
"I'm living in the past because the present is too painful. Today I retreated to a sunny September afternoon when I waltzed into your office at Harper and Row. It was a warm day without fog or a breeze, September being San Francisco's summer. The lawn surrounding Harper and Row was green and rolling, like a green sea rising and falling."
I love how each chapter opens with a picture taken by Catherine Hopkins, who was a photographer. The book is about Catherine's life and death as much as it is about the writer's reaction to loss. And because the book does not worry about clinical stereotypes, there is room to explore how social, cultural, and familial issues shaped Alden's grief experience. Especially important here are the complicated family issues created when Alden's parents refuse to acknowledge the enormity of her bereavement because of their homophobia.
Jendi and I both had a minor concern with the many people—friends, handymen, colleagues, etc.—mentioned in the letters. The reader did not know any of these people, and they were hard to keep track of. A cast of characters at the beginning of the book would have solved that problem. There were a number of small errors that began to accumulate. These were minor concerns in a book that made me, as well as one of our contest screeners, weep our eyes out.
Read an excerpt from Her Widow (PDF)
Buy Her Widow at Bella Books