Joan Alden
Filed under: Authors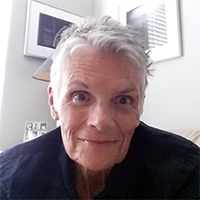 Joan Alden, a graduate of Ohio State University, BS and MS, and the Stella Adler Conservatory of Acting in New York City, didn't begin writing until she was 34 years old, working backstage at the Curran Theatre in San Francisco.
Two years later, she published her first novel, Mrs. Cooper's Boardinghouse. Alden's second novel, Letting in the Night, was a Lambda Literary Award finalist. A Boy's Best Friend, her children's book, illustrated by her partner, the late Catherine J. Hopkins, was selected for the Rainbow Curriculum in New York State.
After publication of Alden's third novel, Before Our Eyes, Alden didn't write for fifteen years. Those years she taught writing at The Citadel in South Carolina and took up oil painting.
In 2015 Alden published her fifth book, When I First Knew, a creative memoir of her years 7 through 13. Her Widow is her sixth book, a memoir of one year in her life, a year of letters to her lover/wife following that woman's death. The book was a finalist in combined nonfiction at this year's Goldies, an award series for lesbian literature from the Golden Crown Literary Society. Alden has just completed her first full-length play, After the Dance.
Alden was born in Detroit Michigan in 1944, before the words gay and lesbian were a part of our lexicon. In 1969, the year of Stonewall and at the age of 25, Alden, living in NYC, came out to her family, friends, and the world. She now lives in Bradenton, Florida.
Twitter: https://twitter.com/JoanAldenAuthor
Contest Won: North Street Book Prize 2019, Honorable Mention