Little Moss, Big Tree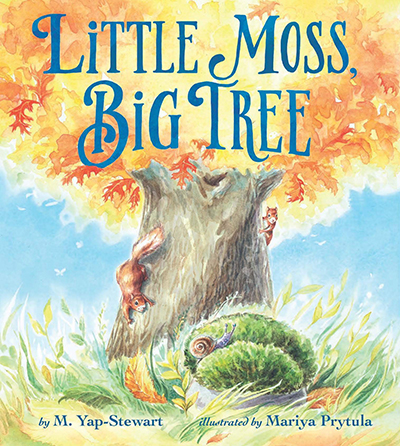 Critique by Jendi Reiter
Melissa Yap-Stewart's picture book Little Moss, Big Tree, illustrated by Mariya Prytula, is a gentle and imaginative allegory of friendship that endures through change, distance, and death. The title characters become friends when both are small, and develop creative ways to stay in touch when the tree grows much bigger. In the end, when a storm knocks the tree down, the moss tenderly grows over the fallen trunk, beginning the life cycle anew.
Books to help children cope with losing loved ones, a popular theme in this contest category, must strike a balance between upsetting young readers with bluntness and misleading them with vague substitutes for the truth. In Little Moss, because the personified plants and animals do obviously impossible things like sending postcards, most children are not in danger of taking the story too literally, and might find that the whimsical exaggerations leaven the melancholy of the theme. On the other hand, a very young or scientifically-minded child might be confused or pulled out of the story by this departure from realism.
The open-ended, metaphorical nature of the story makes this book relevant to many difficult situations besides bereavement: staying in touch with a friend who moves away, or a beloved caregiver becoming frail and dependent in old age. Death is hinted at, but not explicitly shown. As they trade places of strength and weakness, Tree and Moss are a powerful image for the give-and-take of a healthy relationship.
Little Moss boasted the best visuals of any entry in this category. The text was brief and elegant, not too wordy for the age group, and well-integrated into the lovely watercolor illustrations. The woodland animals were realistic in form, but with friendly humanized expressions. It reminded me of classic Little Golden Books like I Am a Bunny. In layout, quality of paper and printing, and artwork, it was indistinguishable from a traditionally published hardcover. The cover did have a plastic odor that could upset a sensitive person. While the book does not break new ground in terms of plot or representation, it is an excellent example of its genre.
Read an excerpt from Little Moss, Big Tree (PDF)
Buy Little Moss, Big Tree from Amazon