Melissa Yap-Stewart
Filed under: Authors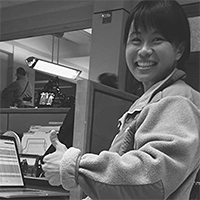 M. Yap-Stewart can usually be found on set doing whatever it is that script supervisors do...which is actually quite a lot!
She is pretty proud to have an IMDB page, having worked on Evil (2019), Russian Doll (2019) and Orange Is the New Black (2013).
Whenever M. isn't on set, she can be found at her desk "working on a project". This chiefly involves lots of staring out her window and, occasionally, some scribbling in her notebook.
If she's not at her desk, she's probably off hiking somewhere in the Hudson Valley.
If she's not hiking, she'll definitely be any place that serves up a good cup of tea.
Follow M. on Instagram.
Twitter: https://twitter.com/myapstewart
Website: https://www.myapstewart.com/
Contest Won: North Street Book Prize 2019, Honorable Mention