Mighty May Won't Cry Today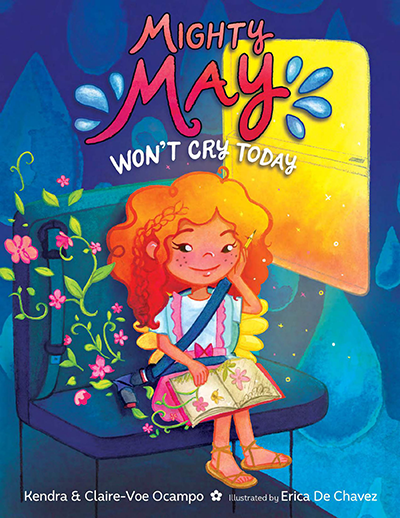 Critique by Jendi Reiter
A picture book about social-emotional skills has to do double duty, conveying a straightforward solution to an age-appropriate problem while also being fun to read. Kendra and Claire-Voe Ocampo's Mighty May Won't Cry Today aces the assignment. Erica De Chavez's illustrations pop with festive shades of orange, gold, pink, and blue, expressing May's spunky personality and the nurturing home that her two moms provide. Can I just say how sweet is it to have diverse families be a normal part of the background rather than the main issue, or, as in my childhood, completely absent from children's media? Society has come a long way.
It's May's first-ever day of school (kindergarten or first grade, not specified). She's excited, but nervous, too. We follow her through various new experiences and mishaps that many kids her age will relate to: finding someone to sit with on the school bus, a skinned knee, an art project that gets messy. Each time, she almost cries, but finds a way to turn the situation positive instead...till she misses her stop on the bus. This, too, is a "what-if" anxiety that will resonate with lots of kids (and some adults—my Polish immigrant grandmother used to tell me stories about a squirrel who was afraid to take the bus beyond 14th Street and 5th Avenue).
At day's end, May's moms reassure her that it's okay to have all her feelings. They share memories of times that they cried, sometimes when they were sad, and sometimes happy. Again, it's really sweet to see the moms getting married and having their baby. This story is teaching lessons on several levels. Illustrated bios at the back of the book show us that authors Kendra and Claire-Voe are a real-life married couple with two daughters.
First-round screener Annie Keithline and I wondered where May got the idea that she shouldn't cry, since her moms were so expressive and affirming. Without making the plot too complex for this age group, perhaps a sentence at the beginning about May's tough and mighty self-concept would have placed her struggle in context.
The alliterative and rhyming title is catchy. However, this book didn't need to be written in verse. The meter is often irregular and the rhymes fall in unpredictable places because of that. If formal verse isn't your strong point, don't force it; your children's book can still have poetic qualities. Margaret Wise Brown's The Color Kittens is a classic example of a picture book with lyrical writing that naturally slips into moments of rhyme within the prose story.
We liked the large print in a friendly-looking rounded font. The contrast between text color and background was always good. The physical book was an attractive and sturdy hardcover with a glossy cover and good color reproduction.
Read an excerpt from Mighty May Won't Cry Today (PDF)
Buy this book on Amazon