Kendra and Claire-Voe Ocampo
Filed under: Authors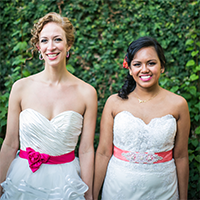 Claire-Voe and Kendra Ocampo have cried many tears together since falling in love in Boston and getting married in 2014 in New Jersey, just months after same-sex marriage became legal in the state. They're two moms to three mighty daughters, Xiomara, Violet, and Skylar, who cry often (and that's okay!) about spilled milk, a wet diaper, or going to school. When they're not writing, you might find Kendra and Claire-Voe eating Spanish tapas, video gaming, or watching sappy rom-coms, which often brings them to tears.
Claire-Voe grew up in New Jersey and Kendra in PA. They are now happy to call New Jersey their long-time home. Kendra majored in Political Science and Spanish at Haverford College and is now an AVP in Consumer Market Insights in L'Oreal Research & Innovation division. She is passionate about understanding human behavior and helping L'Oreal to create inspiring and exciting products for hair that will change consumer lives for the better. Claire-Voe keeps the household running, celebrating birthdays and events, and is responsible for feeding and taking care of their three fun and crazy kids. Claire-Voe majored in Business Marketing & Management at Northeastern University and has over a decade of experience as an events professional. She volunteers for Out Montclair, a nonprofit that supports the LGBTQIA+ community, lending her event expertise and passion in planning for their first Pride event in June 2022.
The idea for Mighty May Won't Cry Today was born in 2016 right after Xiomara was born. Kendra and Claire-Voe started reading her many, many picture books and quickly saw that most of them featured a traditional family. It was frustrating to see LGBTQIA+ families so little represented. Claire-Voe and Kendra dedicated themselves to publishing Mighty May Won't Cry Today so they could be a positive engine of change. They want and hope for their daughters to grow up in a world where it's not "different" or "strange" to have two mommies and that their daughters will understand that their family is like any family—messy, unpredictable, and filled with love.
Erica De Chavez, illustrator of Mighty May Won't Cry Today, is a Filipino-American children's book designer at HarperCollins Publishers during the day. By night, she is a freelance illustrator, designer, and storyteller. She lives in Clermont, FL with her fiancé and dog, reading comics and drinking tea when not painting or designing. A big sap when it comes to Korean soap operas and any stories that move her emotionally, Erica always, without fail, tears up when chopping onions. With her keen eye for design, Erica's detailed illustrations beautifully depict the nuances of May's many emotions and experiences and the reactions and interactions of those around her throughout her day. A masterful and professional work of art, Erica's art weaves colors, setting, and characters together to elevate the story's message.
Website: http://www.mightymaybooks.com/
Facebook: https://www.facebook.com/mightymaybooks/
Instagram: https://www.instagram.com/twomomswhowroteabook/
Contest Won: North Street Book Prize 2021, Honorable Mention