Migration Memories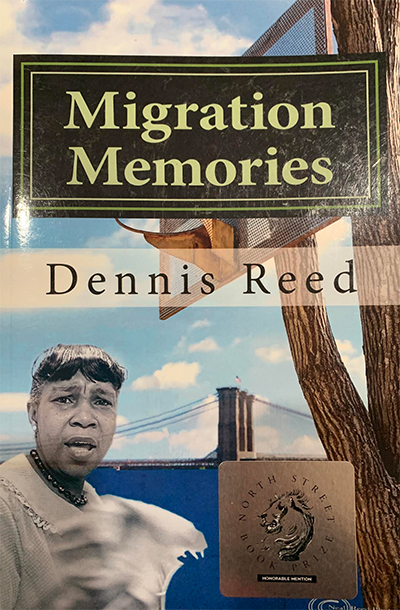 Critique by Jendi Reiter
Dennis Reed's coming-of-age memoir Migration Memories: Brooklyn Blues is the story of a young Black man steering a course between the strong currents of different worlds that pull at his loyalties. The book covers a pivotal year in his early life, when he was one of the few Black students at the prestigious Brooklyn Tech high school. Teenage Dennis strives to stand out on the school basketball team and works hard in classes whose relevance he secretly questions. In his home neighborhood of Jamaica, Queens, he must resist peer pressure from drug-ravaged former friends. Meanwhile, his high-pressure school year is interrupted by family trips to Virginia so that his mother can support her sisters through health crises and marital troubles. In his own words:
Every day I split myself in two, becoming two souls. One lives in South Jamaica with the dope fiends, hardworking people, families and those former friends of mine hell bent on destroying themselves. My family came from Amelia, Virginia, migrating North. My father passed away from a cerebral brain hemorrhage, leaving Ma to raise my brother and me. Moving from the Bronx to Queens was supposed to save us, but the projects have turned mean and the streets offer various ways to die.

In the mornings, I become a student in the world of brown loafers and khaki pants, sitting next to pimple-faced boys with superiority complexes.
Reed excels at re-creating the atmosphere of each setting and making it feel distinct. Daily life in New York City is cold, hard-edged, and full of hustle-bustle. Tough love reigns: his hardworking mother is devoted but never indulgent. Down South, we can feel him breathe easier, relaxing into the warmth of traditional home cooking and the affection of his many cousins. The pace and patterns of the characters' speech vary depending on location.
The Virginia cohort suffers from its own tensions, problems denied or endured for lack of alternatives. His beloved Aunt Helen has an abusive and unfaithful husband, and Aunt Mary has a chronic illness whose cause is hard to find. Given the limited opportunities for women at the time, his mother doesn't counsel Helen to get a divorce. Despite these struggles, his family is clearly a strong foundation for his sense of self, enabling him to resist both the despair of the drug culture and the racial tokenism at school.
Migration Memories paints a richly detailed picture of Black American family life, touching on important social issues without interrupting the immersive narrative. From the pop-culture references I deduced that the book was set in the late 1960s, but I would have liked more explicit date markers. It was a wise choice to focus on the events of a single important year, rather than the entire life stories we often see in this contest. Nonetheless, the book still seemed too long because of some repetitive scenes (play-by-play basketball games, school commute, conversations with an addicted friend) that could have been cut.
Another excessive element was teenage Dennis's interior monologue about his sexual attraction to virtually every woman he sees, from a Brooklyn Tech teacher to a stranger he rubs up against on the train. In his telling, the female commuter welcomes his attention, but as a mature author, he should have been more aware that women feign friendliness to avoid escalating such situations until they can get away. It's realistic that a teen boy would be constantly horny, but not all of these scenes were necessary to get the point across.
Substandard proofreading also held back this excellent story from a top prize. There were a lot of typos and the interior book design was more like a bound manuscript than a published book. The photo collage on the cover features an eye-catching color image of the Brooklyn Bridge over blue waters and a black-and-white photo of a middle-aged woman (Dennis's mother, presumably). While they're separately compelling, the images didn't cohere into something that would tell me what the book is about. I wouldn't have predicted that a young man was the protagonist. We would advise Reed to redesign and reissue the print edition so that this important story attracts more readers. Overall, we enjoyed this book so much that we added another Honorable Mention in the Memoir category this year.
Read an excerpt from Migration Memories (PDF)
Buy this book on Amazon