Dennis Reed
Filed under: Authors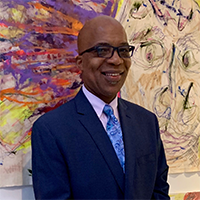 Dennis Reed is a former member of the infamous poetry group, BUD JONES. A native new yorker, Mr. Reed attended New York City Public Schools where he was awarded the Jean S. Grossimer Award for Excellence in English. His early influences include the poets Fatisha, Mervyn Taylor and the novelist Wesley Brown. Mr. Reed's poetry, fiction, journalism, and drama has appeared in Essence, The Free Press, Discord, Caution, CLA, Black Scholar, Black Creations, the Richmond Literary Magazine, Richmond Arts Magazine, Black Works, The Linden Avenue LIterary Magazine, and many other journals. His memoir Migration Memories (which has been edited and reissued as of this writing) was a semi-final selection in the 2014 NCTE/Norman Mailer High School English Teacher's Non-Fiction Award. He is a National Endowment Winner and winner of the Eminent Scholar Award twice, bestowed by Norfolk State University.
Mr. Reed has studied at the University of Ghana, Long Island University, Virginia Commonwealth University, and has taught writing courses at William and Mary, Morehouse College, and Virginia Commonwealth University. He has done work towards his doctorate in Contemporary Drama at Georgia State University. He is the recipient of the UNCF Faculty Development Award and the Distinguished Teaching Award from Morehouse. He is a former member of Governor Baliles' Executive Staff and is the first African American speechwriter for a governor in the history of the Commonwealth of Virginia. OPUS Press published Definitions, his volume of poetry in the Spring of 2017, featuring Mr. Reed's prose, oil paintings, drawings, and prints.
This year Olympia Press will publish Sell the Team, the Shakspearian Tragedy of the New York Knicks. The book will be released in London, New York, and Dubai in June of 2021. His screenplay "Love On the Corner" won fourth place in the 2020 Scriptapalooza Screenplay Writing Contest. Mr. Reed studied printmaking with Valerie Maynard at the Studio Museum and is a former student at the Brooklyn Museum Arts School and the Arts Student's League in New York.
For his work with the prison population of Virginia, Mr. Reed was nominated to serve on the Governor's Board for Rehabilitation.
Follow Mr. Reed on Facebook and Instagram. He also blogs on WordPress here, here, and here.
The photograph of Mr. Reed was taken at his one-man show, "The Unknown World", at the Unique Gallery Event Space in September 2019.

Website: https://dennisreed.wordpress.com/
Twitter: https://twitter.com/DennisReed12
Contest Won: North Street Book Prize 2020, Honorable Mention