Mine to Carry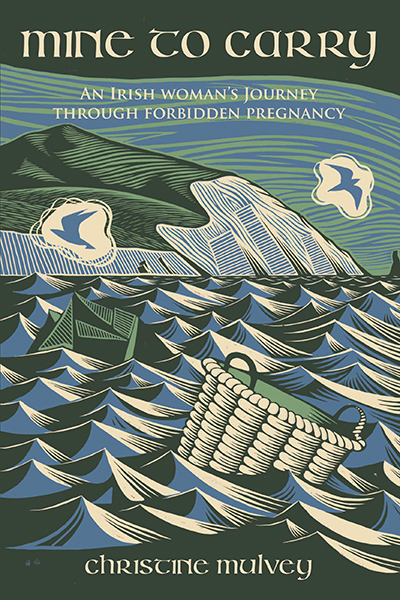 Critique by Ellen LaFleche
Christine Mulvey's memoir Mine to Carry is by far the strongest book I've encountered during the years I've helped to judge this contest. The writing is a perfectly woven tapestry of lyric description, narrative, dialogue, story, and philosophical and religious musings. It's extremely hard to weave multiple strands into a perfect literary garment but Mulvey has done just that.
Mulvey is an Irish woman in her early twenties when she is abandoned by her fiancé after becoming pregnant. This happened in 1981, a time in Ireland when women's reproductive rights were severely restricted, when premarital sex and pregnancy brought not only intense shame to a woman and her family but rejection and judgment from her community.
Here Mulvey describes walking through Dublin after receiving a positive pregnancy test:
Silver grey, the canal catches sunlight on the tips of its wavelets, making little murmuring sounds as it hits the banks and flows steadily east, out toward the bay and on out from there to open sea. At its edges, swans top-end themselves to poke through muddied bottom, soggy paper and slimy vegetation floating around them, shreds of plastic grocery bags, white and blue and brown, rustling in the rushes. I find a bench and sit. Above me wind moves through the heart-shaped leaves of the elm trees. It makes a faint rustling sound. Shshhh. Shshhh.
This is a brilliant example of how Mulvey uses poetic prose throughput the book to symbolically reinforce actual events. The swans—famous for their monogamous partnering—are beautiful, but they are mired in slimy vegetation and plastic detritus. As she sits to contemplate her situation, she hears the elm trees warning her to keep her quiet: shshhh, shshhh.
But she cannot keep quiet, not with few social or community resources for an unwed pregnancy. Unable to keep her secret for long, she tells her parents about the pregnancy and watches—for the first time—her beloved father break down and weep uncontrollably. "Have you gone to confession?" he demands to know. "Have you gone to confession?"
Events move rapidly as Mulvey goes to England to work for a family as a helper and to prepare to give birth. She is determined to keep her child and raise it on her own. What happens after she gives birth to a baby boy is horrifying. Without revealing too much of the plot, the adoption agency uses lies and trickery to take the newborn—perhaps confiscate the newborn is a more accurate description. As Jendi Reiter noted in their judging comments, "This book should be required reading for adoptive agencies and parents to teach them how not to treat birth mothers."
The last part of the book involves the author's efforts to find and meet her son, who is now in his 30s. I think it best to let readers discover for themselves how this effort turns out. It's an emotional ending to this beautifully rendered story about perseverance and maternal love.
The book's binding is solid and the typeface and spacing make it very readable. The cover illustration is beautiful but the glossy overlay sometimes made the book slippery to hold as I was reading. A minor criticism is a number of mostly small proofing errors.
We give this book the highest praise. It's an important historical document about the intersection of women's rights and cultural and legal norms. I wish that this book had been picked up by a mainstream publisher because it needs as broad a readership as possible.
Read an excerpt from Mine to Carry (PDF)
Buy this book on BookBaby
We commissioned a one-minute Nina Haines #BookTok review of Mine to Carry. Enjoy!