One More Day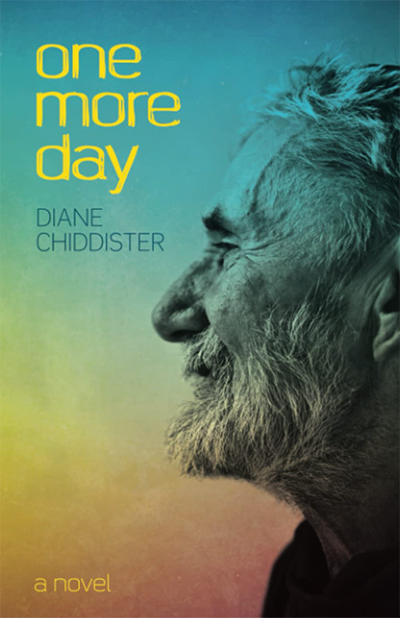 Critique by Jendi Reiter
Diane Chiddister's exquisite literary novel One More Day delves into the inner lives of four denizens of an old-age home. Full of tenderness that stays on the right side of sentimentality, One More Day braids its characters' paths into a journey that leaves all their lives richer. The action is intimate and small-scale, but as Robert Frost said, "the game is played for mortal stakes." Nothing less is at issue here than how we might die well.
From its delicacy and sophistication of feeling, to its elegant cover design and clean text formatting, Chiddister's novel stands up well against any output of the prestigious literary presses. It's not just a good self-published book but a good book, full stop.
Lillian, a resident with dementia, is determined to escape Grace Woods Care Center so she can return to the home she remembers, a place that was sold long ago in a neighborhood that has changed beyond her recognition. Barely verbal on the outside, on the inside she has a clever and playful interior monologue and a strange kind of logic to her plans. She's confident against all odds, as a child might be, and has a childlike freshness to her perceptions that the reader starts to enjoy. Chiddister's portrait of this woman teaches us not to underestimate the interior lives of elders who seem unresponsive.
Thomas, a retired anthropologist recently admitted to the care home, has a long history of using his intellect as a defense against painful feelings. He resolves to remain curious and emotionally detached, a scientific observer in the foreign country of his own physical and mental decline. But when his old reliable tools fail him, his heart has to soften and break open.
Meanwhile, his nursing aide Sally gives care unstintingly, yet asks little for herself. An unexpected romance brings a new life into the world, helping Sally grieve her patients' deaths. Beth, the care home's dedicated but socially awkward manager, is forced to move on from a mission that had defined her identity, when her new supervisors value the bottom line more than the spiritual work of caregiving—a detail that's unfortunately all too real.
Taken together, these storylines encompass the whole life cycle, each person shifting their position on the wheel, with a fresh awareness of being part of something larger than themselves.
I feel the trend of writing entire novels in present tense has been overdone. It can have a flattening effect on the psychology of the narrator, depriving us of the contrasting perspectives from now and then. As a judge, I see a lot of entries that slip up with random shifts into the more natural past tense. However, One More Day actually works perfectly in the alternating third-person-close present tense, because these characters are living day by day. Infirmity has stripped them of context, giving them only the present moment within which to find consolation and meaning. It's an affliction that becomes an opportunity for spiritual breakthroughs, as when Prince Siddhartha encountered the Four Sights of aging, illness, death, and a holy man.
I would also have liked to know where the novel was set. It had the feel of a small Midwestern city or suburb (the author is from Ohio) but wasn't specified. Just a personal preference because otherwise I get distracted searching for clues about how to picture the environment of the story.
These are merely minor suggestions about a book that deeply moved me. One More Day is dedicated to the hardworking and underpaid staff of elder care homes and hospitals everywhere. If only our country invested in more places like the fictitious Grace Woods Care Center, perhaps we wouldn't have so much fear and denial about life's final chapter.
Read an excerpt from One More Day (PDF)