Operaland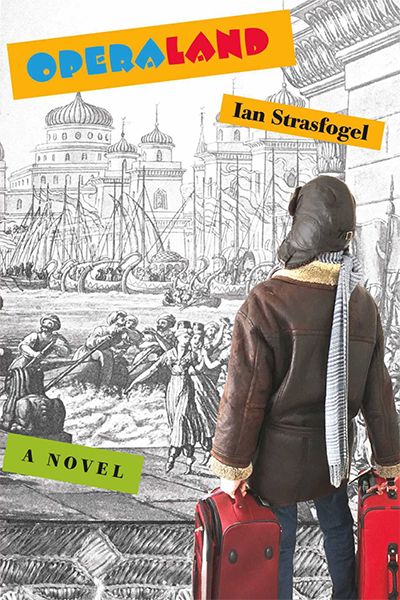 Critique by Jendi Reiter
Ian Strasfogel's novel Operaland is a comical romp infused with love for opera and the hardworking eccentrics who bring it to the stage. It's about following your dreams and coping with the changes that success brings, both good and bad.
Like Susan Boyle on "The Voice", once in a while a talented performer comes out of nowhere and achieves sudden glory despite not being young or Hollywood-attractive. These accounts capture the public's heart because we'd like to think that it's never too late for us, too. Operaland offers us the pleasure of that fantasy, but also reveals the tireless effort and uncertainty that accompany every step of a musician's career. The book mostly strikes the right balance of realism and wish-fulfillment to make the story plausible and engaging.
Our unlikely leading man is Richie Verdun, a portly middle-aged car salesman in a small town in Michigan. Naive, earnest, purely devoted to his wife and kids, but no pushover (he is a successful car salesman, after all), Richie loves singing in church choir but has no ambitions beyond his cozy Midwestern life until he's discovered by a professional voice teacher who moves to town. When he's introduced to the recordings of famous tenor Franco Corelli, he has the equivalent of a religious awakening. Soon Richie is moving to New York City, and then Europe, as he discovers his potential as a Wagnerian tenor.
The story is given depth and tension by the complexity of Richie's psyche. He is not as simple a man as he thinks he is. One side of him is the aw-shucks American boy, contented to the point of laziness—a sore point for his coaches. He's still dazzled by the miracle of music, where his fellow performers and theater executives might be too jaded and ambitious. The other side of Richie, though, is the martial, virile power of his voice, which transforms him from a ridiculous to a heroic presence.
If I stopped reading a book every time fatness was depicted as indicative of disgusting character traits, I would not read very much. So it was refreshing to read about a weighty protagonist who's charismatic, confident, and desired by his partner. I did feel that women threw themselves at Richie a little too often. Perhaps it was meant to be exaggerated for comic effect, but it edged into self-indulgent fantasy territory—a Mary Sue phenomenon, so to speak. The women in the book were portrayed respectfully and not objectified, which I appreciated.
Richie was also ahead of his time, as a small-town straight guy in 1983, in that he accepted and cared about the various gay men he met in the theater world. This didn't feel anachronistic but more like an outgrowth of his basic decency, the same quality that kept him faithful to his wife.
Strasfogel is an opera and musical theater director who has staged many productions in America and Europe. His re-creation of this world was colorful and believable. His ensemble cast took turns narrating, giving us additional perspectives on Richie's strengths and weaknesses. Their voices were well-differentiated. However, as Richie's adventures took him to different theaters and countries, sometimes it was difficult to keep track of all the minor characters. Some short scenes in the latter half of the book could have been cut for this reason.
The print book's design was professional, with few typos, an uncluttered layout, and an attractive if somewhat small typeface. The title didn't knock me out. There are a lot of books with "-land" titles and it's not especially distinctive or descriptive of the storyline.
The cover also doesn't do it justice. The cheerful orange and green text boxes with red, blue, and black type convey Operaland's upbeat and playful nature, but they don't read as a consistent color story. I would narrow the palette to orange, blue, and red. If you're going to do a collage-style cover, it has to have a focal point or it just looks cluttered. I liked the contrast between the Venetian-looking, black-and-white background drawing and the color photo of a traveler facing the scene. It expressed the "fish out of water" quality of Richie encountering European high culture for the first time. However, the leather aviator hat and jacket made the figure look like a pilot rather than a singer or even a car salesman, and the brown and red added more unharmonious colors to the palette.
On the whole, Operaland was a delightful read. Whether you love opera or have a tin ear, Richie Verdun will win you over. And he knows it!
Read an excerpt from Operaland (PDF)
Buy this book on Amazon