Pavarotti and Pancakes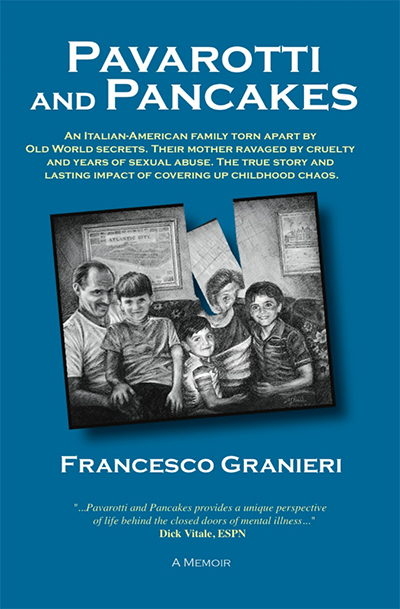 Critique by Jendi Reiter
Francesco Granieri's epic memoir Pavarotti and Pancakes chronicles growing up with a mother who slid into psychosis because of sexual abuse in her childhood. Part family saga, part cultural history of Italian-American manhood, "Chichi's" tragicomic coming-of-age narrative is set against a backdrop of the rise and fall of casino empires in Atlantic City, NJ.
Granieri and his two brothers were born in the 1970s, but traditions and attitudes from the last century retain a strong hold on their extended family. His mother's side embodies the best and worst of Calabrian peasant culture: family loyalty, pride in their history, delicious traditional foods (I had to go out to lunch at Viva Fresh Pasta while judging this book because it made me so hungry!), but also a dictatorial patriarch and a code of silence about abuse. The author's father, a concrete contractor nicknamed "Frankie the Voice" for his musical talent and personal charisma, has his eyes fixed on Atlantic City's booming future, even if that means doing business with some shady characters. His manly code of stoicism and competence backfires when his in-laws blame him for his wife's misery and repeatedly stymie his efforts to steer her into psychiatric care.
Pavarotti and Pancakes stood out from other family-trauma memoirs we've read, because the author wants to tell the story of something larger than himself: an Italian immigrant community with gifts and flaws on an operatic scale. Atlantic City herself becomes a character—his mother's story arc writ large, all glittering promise and seamy collapse. Instead of prescriptive platitudes about recovery and forgiveness, Granieri simply lets his agonized love for his mother emerge from the texture of their everyday lives. It comes through in his nostalgia for the long-lost happiness of Sunday breakfasts, or the years of shell-shocked patience as the boys try to concentrate on normal childhood preoccupations of homework, girls, and baseball while stepping over her filthy prone form on the carpet.
This memoir's well-chosen narrative structure helped frame the lengthy compilation of anecdotes from Chichi's childhood to young manhood. Many memoirs in our contest simply proceed in chronological order from birth to the present. Here, the book opens with the dramatic climax of his mother's long deterioration: her attempt to murder his father in his bed. Then we rewind to their meeting as young lovers and the historical context of the author's birth, continuing forward in time till we revisit this scene again with full knowledge of, and empathy for, all players in the tragedy. This cinematic set-up gave the book momentum.
Though riveting as a whole, the book was on the long side at nearly 500 pages, and could perhaps have been shortened by 10-15% by eliminating repetitive material here and there. My co-judge Ellen would have liked to see Granieri think more critically about the men's expectations that the women would do all the housework; perhaps his mother's reasons for being depressed were not entirely caused by her childhood. The three-sentence subtitle on the front cover seemed amateurish (this much information should go in a back cover blurb instead) and gave me the mistaken impression that it would be about the author's own sexual abuse and recovery.
The physical book was a sturdy trade paperback with a distinctive sketch of the author's family as a torn snapshot. The typeface inside was large, clear, and attractive, though the narrow margins made the pages appear too dense. The back cover was a bit cluttered with logos and illustrations. This space would have been better used for a good plot summary in larger, more readable type. The overall exterior design didn't look modern and streamlined.
Pavarotti and Pancakes was a cathartic, immersive, and important read, with a hopeful ending. As someone who was raised by a mentally ill mother, I felt really seen and accompanied in my own healing journey. Granieri is to be commended for balancing empathy and critical truth-telling in bringing his family's story to light.
Read an excerpt from Pavarotti and Pancakes.