Prophet and Loss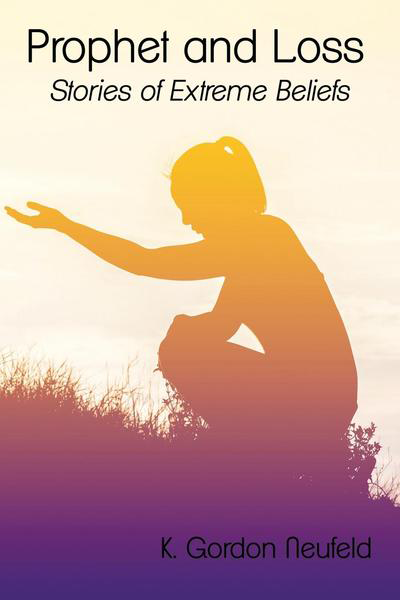 Critique by Jendi Reiter
K. Gordon Neufeld's slim but intense story collection Prophet and Loss: Stories of Extreme Beliefs serves up a montage of characters who are insidiously recruited into various cults. Some fight for their freedom, while others succumb to the expert manipulations that exhaust and isolate them. The sinister organizations range from apocalyptic Christian sects to Catholicism's Opus Dei and the Unification Church of Rev. Sun Myung Moon. Neufeld spent ten years in Moon's cult and has written memoirs and articles about extreme religious groups.
As the book quickly samples each environment, it becomes apparent that the sects' specific beliefs matter less than the common tactics of love-bombing lonely individuals, pushing their boundaries to pile on ever more commitments and commandments, and wearing them down with round-the-clock labor that saps their energy to make an exit plan. Just like an abusive relationship, cult recruitment gets past the defenses of many people who might consider themselves too smart and stable to fall for such a con game. Cults target individuals whose personal foundations have been shaken by life changes—starting college in a strange town, managing a disintegrating marriage, or worrying about global disasters in the news, such as the Cuban Missile Crisis that forms the backdrop of one tale. Readers can easily see themselves in these situations; the warning in these stories hits home.
Some of the stronger stories were linked by a main character in the Unification Church who is torn between his love for Margaret, a member who broke free, and the pressure to stay in the cult. We appreciated the respectful way that his desires were portrayed, without the sexual objectification that marred many of this year's contest entries from the straight male point of view. It was also a good decision to focus on the mind games of cult recruitment and retention, rather than lurid details of child abuse and sexual servitude. The latter abuses are certainly pervasive in cults, but their depiction in media often shades into voyeurism.
The one "humorous" story, in the voice of a waitress telling a shaggy-dog story about a UFO cult, was a real miss for us and should have been cut from the book. Her malapropisms were too frequent and exaggerated to be funny after awhile, and it was unbelievable (to the point of being insulting) that she would be unfamiliar with common words like "microphone" or "horizon" simply because she was a working-class woman.
The book design was professional, with few typos and an elegantly readable font. The earth-toned photo silhouette on the cover had a retro feel that meshed well with the 1960s-80s setting of the major tales. Prophet and Loss is a thought-provoking read for fans of literary fiction based on current events. Stories such as "The Work" and "Living Water" would also be instructive additions to the curriculum for psychology and comparative religion courses.
Read an excerpt from Prophet and Loss.